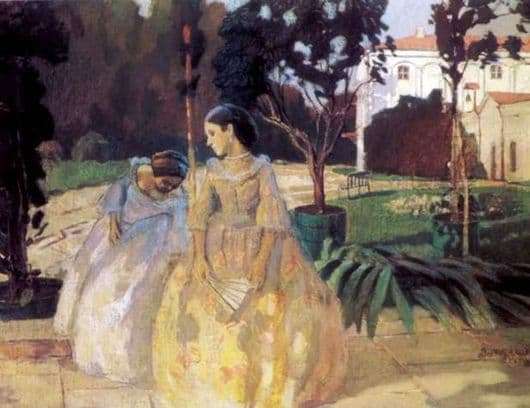 Victor Borisov-Musatov was born in Saratov, where he lived all his youth. He studied at the Moscow School of Art, where he was taught to flawlessly master the brush and convey his mood with colors. It turns out that in 1895 he moved to Paris. There he improves his skills and discovers new facets of talent. In Russia, the artist began to talk about in 1902, it was then that the painting "Tapestry" was born.
The author chose pastel colors for his works, but he was especially attracted by the unusual tapestry technique. This technique Musatov studied in detail in France, it was born in the XVII century. The picture becomes similar to the fabric, due to the fact that the paint is applied to the canvas in a very thin layer. The texture appears, the fibers become visible. The painting depicts two young ladies, they are walking in the garden. The park is located in an old manor. Dark-haired beauties went for a walk on a sunny day, it was a bit hot outside and they had to take their lovely fans with them. One of the ladies straightens her magnificent dress, and the second gives her an indifferent look.
The park is well maintained, lawns are flat, and the trees are trimmed. In the background there is the manor itself, with an alley with a small shop. Women's dresses are decorated with flounces and numerous pleats on the skirt. On the neck one can see a pearl ornament indicating the status of a young person. Hairstyle removed back, it gives the rigor, painted young lady. Viktor Borisovich conveyed the real atmosphere of one of the walking days of two beautiful women. He personally observed such walks daily. He liked to draw girls, drawing their faces in the history of his work. Most admired is the ability to select such light and natural shades.