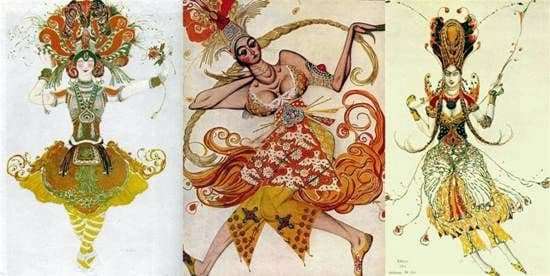 Artist Leon Bakst became famous as a theater graphic artist. The premiere of the famous Russian ballet called "The Firebird" took place thanks to the solid work of art masters, including Bakst. He created costumes for the main characters – for the female roles of the Firebird and the Princess.
Sketches "Firebird" was carried out a few. They date back to 1910. Sketches are completely different in costumes, but equally beautiful and correspond to the theme. The main colors of the scenic image of the Firebird: orange, yellow, red. The illustrator has worked not only the dress of his character, but also important additional elements of the image. These are shoes, headwear, jewelry.
Bakst's ballet sketches are painted in modern style. The author acts as an artist, and as a designer with a rich imagination. The task was to create a unique image of the character of the Russian fairy tale. Making a costume of a fantastic animal is doubly difficult for a person, but that's more interesting. Bakst turned out valuable works, which were later approved by the leadership of the ballet.
Bakst's sketches are also superb paintings. Both children and adults can admire them. The reproduction of "The Firebird" can be placed in any room, and it will significantly enliven the space.
Oriental notes can be traced in the Firebird costumes. Warm colors underline them. In general, the image turned out to be dynamic, fiery. The design on the head of the heroine is especially notable The high lush crest of the bird allows you to create a complete image. The bottom of the suit is made up of trousers and a skirt of medium length. Top open and fitted. In the hands of the character many bracelets. Hairstyle also plays an important role – two long golden braids. The Firebird of Bakst is fabulously beautiful and skillfully executed.