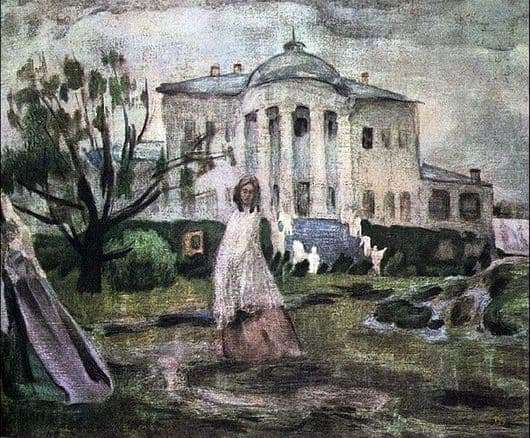 This picture is the final touch to the Saratov cycle of the artist, written in Zubrilovka between 1902 and 1903. Prior to that, Boris-Musatov had time to write other canvases in the estate ("The Pond", "The Lady at the Tapestry"), which motivatedly correlated with the "Signs", yielding to them by the power of the created mood. As the artist's wife recalls, the autumn nature itself, with its dreary days, contributed to the creation of canvases full of poetic sadness. The same bloom was experienced by the once blooming manor house, which in the old days took Derzhavin and Krylov, and now was in desolation. It Zubrilovka, or rather, its southern side, was captured in "Ghosts".
The canvas depicts the receding translucent figures of women. On the face of one of them is sad silence, an understanding of the impossibility of expressing the inner drama in words. In general, a woman in the understanding of philosophers and writers of the Silver Age personified the "Soul of the World", a kind of transcendent essence. In this canvas, women are not devoid of the features of mystery, but the main meaning, put into their images, is different: farewell to the old nobility, sunk into oblivion, and waiting for the new, "iron" century. The heroes of "The Cherry Orchard" by A. Chekhov experienced something like this…
Because of the subject matter of his works, the artist became known as the "singer of noble nests", and his canvases were called the lyrical diary of a dying former Russia. The artistic style of Borisov-Musatov turns out to be close to the style of the painters of the 18th century (Rokotov, for example), and the Symbolists depicting the world as a kind of haze, a light curtain over the mysterious Something. In "Ghosts", this effect is achieved by using a special range of colors, because of which not only the traits, but also the manor itself, are spreading and merging. All this creates the impression of a mirage, a fluctuation of the canvas. It seems that under the image lies another reality, however, and she herself is not stronger than the gas fabric.