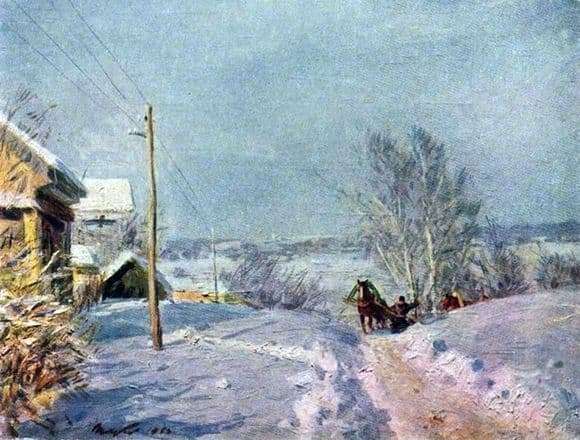 Victor Tsyplakov's painting Frost and Sun was painted at the beginning of the last century and is one of the best paintings of that time. For painting the canvas was used and oil paints, with which the artist managed to create a real masterpiece.
The landscape in the picture is truly beautiful: a cold frosty morning, a snow-covered village, a horse-drawn path barely peeking through the snow, distant fields and forests. The first thing that the viewer sees is the road, starting at the right edge of the picture, and ending under the hooves of the pulling sleigh, the horse.
The horse is walking slowly, because a man in a sleigh raised his hand and apparently swings a whip at it to hurry. Behind the first sleigh one can see the horse's head, the rest of the horse and the sleigh are hidden by a small snow-covered hill.
The road is sprinkled with time to darken with straw. Snow fell a few days ago, but had not yet had time to become dirty and black, it shines with a dazzling blue. A tropic has been made in the snow leading to the nearest house. According to the situation in the picture, it is impossible to understand what time of day the artist tried to depict, whether it was morning or evening. Judging by the way the wall of the house is lit in the left part of the picture, the picture still shows the evening landscape.
In the background of the canvas are several trees, the tops of which are hidden behind the same hill as the horse and sleigh. The village also seems to be going down, and striving to escape along the road. In the distance behind the trees and houses there is a snow-covered field, hidden in the fog, but still creating some contrast between the whitish color of the sky and the same color of the earth.
The only thing that violates the idyll described is electrical wires and poles, the presence of which makes it possible to understand that the picture is quite modern. The absence of this feature of time would suggest that the canvas belongs to the XVII-XVIII centuries.