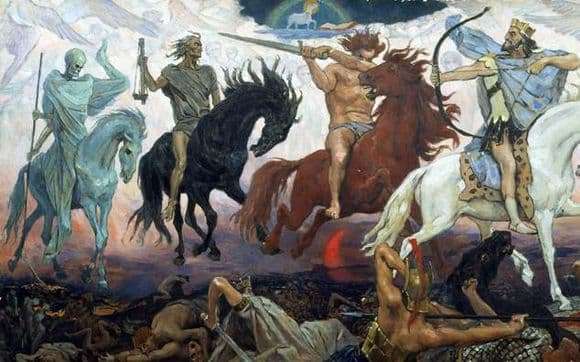 Viktor Vasnetsov painted the canvas in 1887. It depicts four horsemen from the sixth chapter of the Revelations of John the Theologian, these are biblical characters representing catastrophes on the eve of the end of the world, the Last Judgment.
Vasnetsov depicted horses appearing one after another. In the foreground appeared a rider on a white horse, destroying everything around. He demolishes the city, the artist showed falling stone columns, around which people lie in terrifying positions. Who is there only: the kings, with a crown on their heads, and the old men, and the soldiers who prepare the bow for a shot, and the commoners. One thing brings them together: a terrible grimace of flour on the face, hopelessness, hopelessness, and fear. These horsemen appear as if from the sky.
The rider on a white horse has a bow, on his head is headed a crown, as a symbol of power and victory. White color is the personification of evil, the rider has a terrible grimace, he came here for the victory over humanity, he goes right on his head.
The horseman following him appeared on a red horse. He personifies war. Vasnetsov depicted him with a powerful muscular body, with a sword hoisted over the heads of the unfortunate. The rider's hair blends in color with the suit of the horse. The rider who sits on a red horse is dressed only in a bandage on his thigh, as gladiators used to do. The fiery color of hair, the color of a horse and a sword, brought over the heads, personify the shed blood.
The third rider, walking on a raven horse, personifies hunger, he is shown ashen – gray, with weights in his hands. The figure of this rider is emaciated, his face lifeless, like covered bones. Libra – a symbol of false justice.
The last horseman named death, pale horse. The rider sitting on it has a skull and a braid in his hand instead of the head, it is of some unnatural pale green color. It is a symbol of hell.