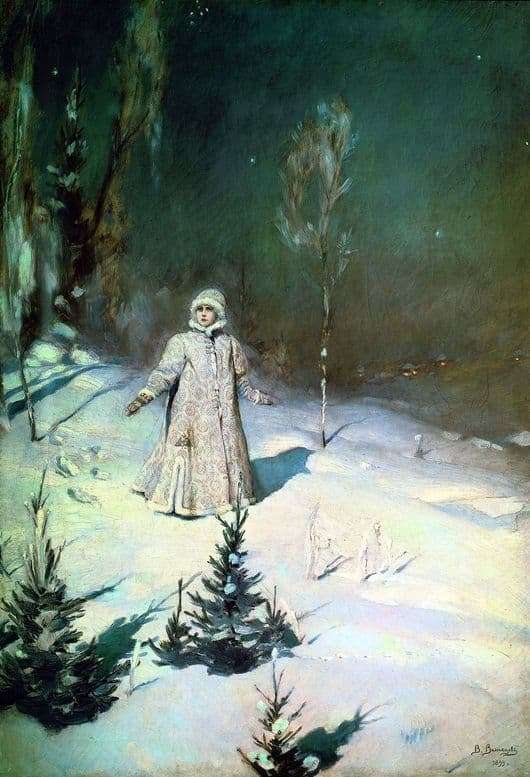 Many works of Viktor Mikhailovich Vasnetsov are imbued with original motifs of Russian folklore. "Snow Maiden" – one of these canvases. The creation of the artist's masterpiece was inspired by the play of the same name by Ostrovsky and the opera by Rimsky-Korsakov. Actually the picture was written as a decoration for the staging of the opera. The prototype of the fabulous Snow Maiden is Sasha, a daughter of the famous patron Savva Mamontov.
In Russian fairy tales, the Snow Maiden is the embodiment of tender beauty and purity. This is a child of Frost and Spring, whose heart does not know and should not know love. But in the interpretation of Vasnetsov, the ice girl turned out to be surprisingly lively and somehow humane.
The canvas is divided diagonally into two parts. In the foreground is a thick layer of winter snow. It is seen that the snow cover is solid, deep. In such a way to come – and fail to the waist. To the left of the snow peeping young Christmas trees. And behind them is the Snow Maiden. It is not drawn in the center of the composition, but slightly to the side. It seems that the winter beauty has just left the forest. With surprise and confusion, she looks over her possessions. Hands slightly apart, as if the Snow Maiden is ready to embrace everything that she sees around. Suit to match this princess of the winter forest. A rich brocade coat almost blends with the surface of the snow. The dress is decorated with gold embroidery. A small hat with a fur edge contributes a touch of femininity and tenderness to the image of the Snow Maiden.
The girl's figure is highlighted below. It seems that the beauty of the Snow Maiden is reflected from the surface of the snow. Nothing distracts us from the contemplation of the heroine. In the background, only a dark blue, almost black sky with a mysterious greenish tint. And only by looking attentively, we can discern the lights of houses, lost in this magical winter kingdom.