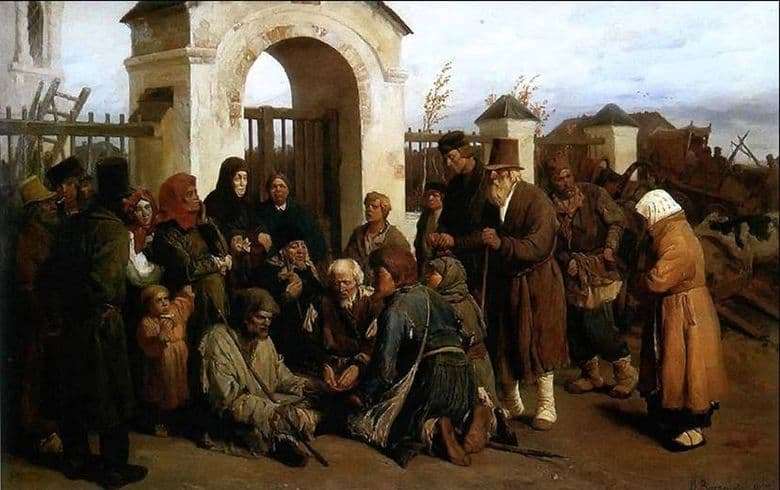 Painting V. M. Vasnetsov "Beggars Singers" was written in 1873. In his work, the author used oil paints, with which he conveyed on a simple canvas all the pain and despair that people feel penniless.
Colors of the picture are very saturated, and human faces are expressive and realistic.
Vasnetsov displayed the truth for what it is with its magnificent technique, a multitude of unsophisticated strokes. At the church gates there are several beggars who want to help out a couple of coins for their mournful singing. Their faces are full of suffering, in contrast to the listeners interested in the presentation.
Mother deaconitsa holds a prosphora in her hand and grins pretty – she is curious to watch the singing of people who have no shelter, no money, no food. In turn, several strong peasants unleash shabby wallets, deciding to throw something at the poor.
The background is as perfectly designed as the faces of the beggars and their listeners.
Church gate clearly outlined the skillful hand of the artist. Behind you can see a few trees, a cow in black and white spots, the roofs of rural houses and a group of people passing by in a cart.
Initially, the author set himself the goal of depicting everyday life – just an everyday scene at the gate of the church fence, which any parishioner can become a witness to. However, his artistic talent and mastery of the brush made this everyday dullness sensual, expressive and surprisingly realistic.