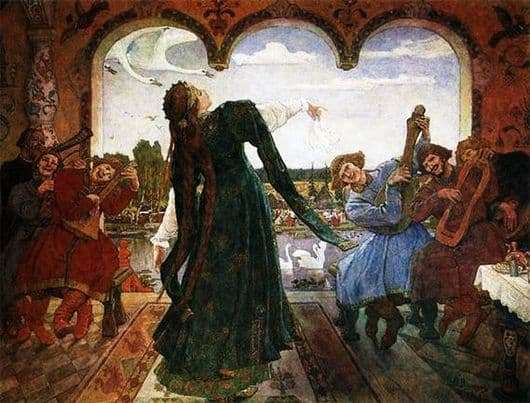 The painting "The Frog Princess" was painted by the famous Russian artists Vasnetsov V. M. in 1918 In the center of the canvas depicts a stately beautiful girl. Her camp is gracefully bent, her head is gracefully thrown back, and her arms are spread to the sides, she is dancing. The princess is dressed in an emerald embroidered dress on the floor, under which a snow-white shirt is visible, and she is holding a white air scarf in her hand. She stands back to us and her face is not visible, only long thick braids are presented to the viewer. From the look of the playing musicians, who settled on the benches, it can be concluded that the girl is very beautiful.
They look at her with a smile and admiration, her dance fascinates them, their legs dance, and their heads move in time with the dance. Vasilisa – Wise artist depicted at the time of her stay at the ball with the king. Right now she is demonstrating her amazing magic: waving his left hand – a beautiful lake appeared, waving his right – snow-white swans swimming on it. Vasilisa performs her dance in one of the rooms of the royal choir, which is very beautiful, as evidenced by carved legs on wooden tables, painted ornament on the floor and walls and the door, bordered by painting, aperture. The table is covered with a snow-white tablecloth and is filled with various dishes.
In the background you can see a lake with a beautiful surface and snow-white swans swimming along it, and nearby flying to it. Behind the lake one can see village huts, slender birches, a wheat field is gilded, and behind them is a tall and dense forest. On the lake there is a boat with a man, and on the shore, a girl in Russian sarafans leads round dances. In the peaceful blue sky, white swans are flying smoothly. Small elements of the demonstration of nature in the picture, very accurately and beautifully convey it. The painting conveys the inspiration of folk art, all the beauty and originality of the Russian people, telling the viewer about world magic. At the moment the picture is in the House-Museum Vasnetsov V. M. in Moscow.