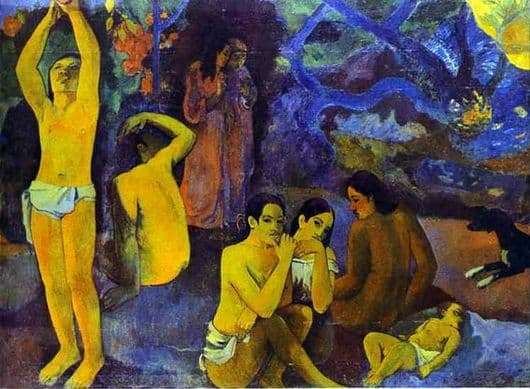 In 1891, Gauguin decided to go to Tahiti, since he was spiritually close to a society whiter than the spiritual and simple than his French environment. There he began to paint this picture a few years later (1897), and graduated in 1898. According to the artist himself, this work had a sublime culmination of his own reflections.
In 1898, Gauguin sent his work to George de Monfreyd in Paris. Later, this painting was resold to many other European traders and collectors until it was acquired by the Maria Harriman Gallery in New York in 1936. Later it was bought by the Boston Museum of Art.
Gauguin had thoughts of suicide after he finished work on this picture. He stressed that the picture should be read from right to left, since the main groups of figures give a complete illustration of the questions that are posed in the title.
Three girls with a child tell us about the beginning of life; the middle group tells us about the daily existence of maturity; the final group, or rather the old woman, who is getting closer to death, at first glance may seem resigned and surrendered to her thoughts, and at her feet is a white bird, which is represented as useless words.
The pictured blue idol in the back view most likely tells the story of the other world. As for the completeness of the picture, he stated the following: "I have the belief that this canvas has superiority not only over all my previous ones, but also that I will never be able to create a better or more similar work"
The painting rightfully managed to earn the status of a key and innovative piece of the post-membership style of Gauguin; his art is inherent in the clear use of paints and thick brushstrokes, while at the same time striving to convey the presence of emotional or expressionistic power.