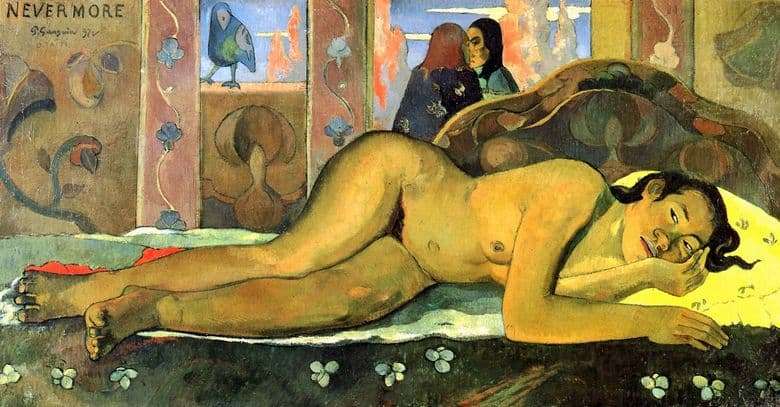 Paul Gauguin painted the painting "Never Again" in 1897 in Tahiti. He executed it on canvas with oil. She is now in London in Kurto.
The composition represents a thematic variant "reclining naked": a naked Tahitian young girl settled down on a rather rich bed and, as it may seem to an attentive viewer, listens attentively to what is happening around her.
Behind her, in the doorway, two figures can be seen who are talking animatedly with each other. And if you take a closer look at the upper left corner, you will notice a hanging picture with a clear signature "Nevermore", which in translation into Russian just means "Never more".
You should also pay attention to the black crow, which is located behind the naked person. Which symbolizes the poem by Edgar Allan Poe "The Crow".
The picture is aged in dark and dark color shades. She seemed to create a breath of anxious feelings, but not a passionate platonic desire for a naked and young girl.
The main character of the composition looks alarming. She obviously thinks about something. Maybe about those two women behind her? Or about the crow?
Stylization of the letter of the French painter – it is densely condensed strokes, colorful, vivid colors and tones – as if admiring the creation of expressionists.
A lot of critics argue about the deep meaning of the artist's work. But Gauguin himself said that the main idea is that there is some understatement in this work. And precisely for this reason, this picture, as well as other works of this artist, carries with it a whole series of various interpretations.
It has already been officially proved that the Gauguin painting "Never Again" was created on canvas, on top of another painting.