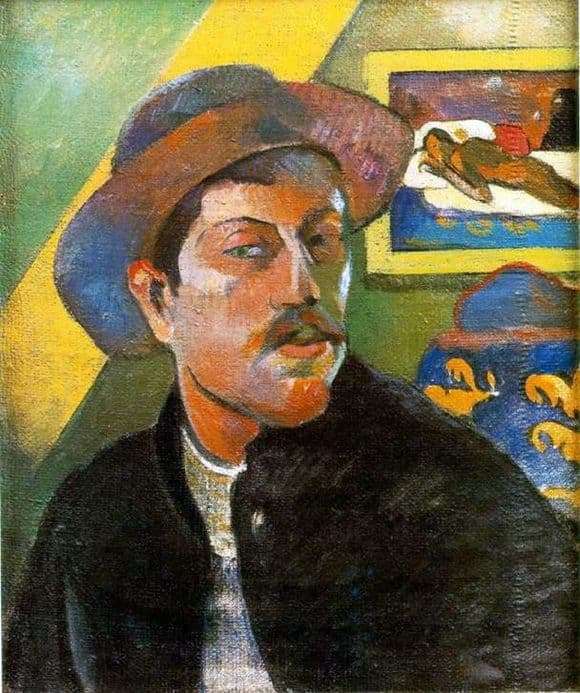 Gauguin has created many self portraits. In each of them embodied the skill of the impressionist. He began to paint a picture in Tahiti, and finished only when he returned to Paris.
The real connoisseurs of the painter's work immediately notice an unusual background against which Gauguin decided to capture himself. On the right in the background is another picture of the artist. Gauguin really liked to quote his creations.
The painter gives a special perspective to his own face. His chin is raised, his gaze is directed somewhere to the side. We see Gauguin in a half-turn. Colors amaze with purity, lines surprise with deliberate clarity, coloristic patterned elements draw maximum attention to themselves.
We see the artist a little detached and for some reason wary. This is quite understandable. It was during this period that Gauguin realized that the public did not understand him. He is also experiencing a collapse in relationships with his beloved women.
Many contemporaries wondered why Gauguin so often wrote self-portraits. Some believed that the artist refused to pose. That is why he had to portray himself.
Others were convinced that Gauguin sought to find himself. He made a lot of attempts. They were all successful. The artist managed to capture himself in different moments of his life. He also told the audience with the help of paints and skillful brush strokes that worried him.
Self-portrait of Gauguin in the hat is impressive. He wants to be considered to infinity. Unusual transitions of bright colors create an unusually sunny mood. In this case, Gauguin as if invites us to think about the most important thing in life.
Before us is the magnificent creation of the real impressionist. Gauguin conveys his mood and thoughts. We understand what the artist thought about and what disturbs him.
Numerous self-portraits of the painter allow us to imagine what Gauguin was in life.