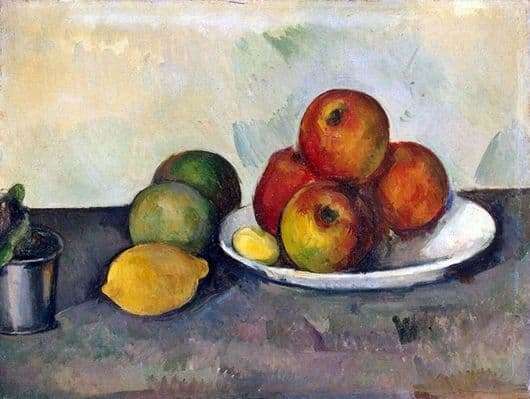 The famous French artist Cezanne became famous for his famous still lifes. The artist was more attracted to fruits, especially apples, which in his opinion had a beautiful shape and color. Depicting fruits and vegetables, the artist achieved a qualitatively new technique in execution.
Still life with apples attracts attention with rich colors and shades, forcing the viewer to see something unusual in ordinary things. In the picture, apples have the same shape, but a different shade, which gives them even more realism. Ripe and juicy apples do not leave anyone indifferent, just as they did not leave the artist indifferent.
This picture brings real aesthetic pleasure. Bulked and ripe apples once again show that fruit grew and sunk under the warm sunshine. Despite the fact that the name of the still-life suggests the presence of only apples, the artist still places a lemon in the picture and very well. The background of the picture is unclear, which allows you to focus on the main plot. Apples and lemon are located on a dark surface, while the background is made in pastel colors.
Cezanne is a master of his craft, an artist who creates masterpieces and conquers with his colorful and realistic images. The artist who was able to transform this genre into one of the main genres of artistic art. The master who managed to conquer graceful Paris with simplicity and refinement.