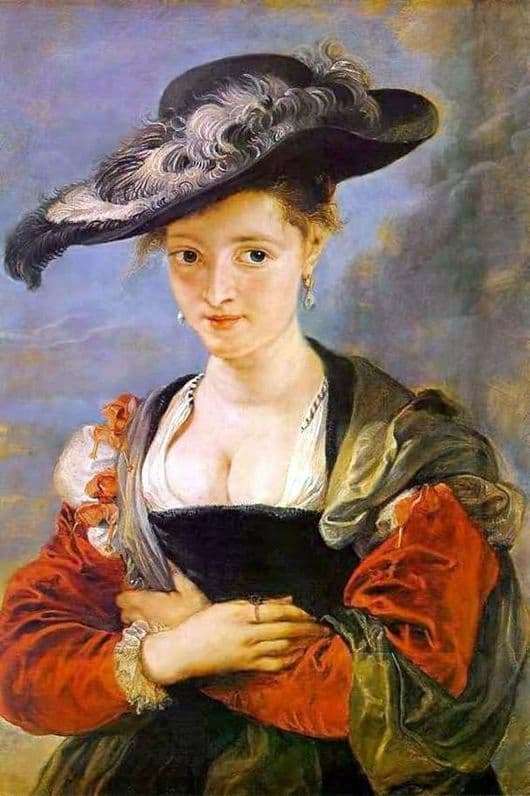 Before us is a picture of the great Rubens – "The Straw Hat" or, as it is otherwise called, "The Portrait of Susanna Fourment". Despite the fact that the woman depicted does not have a hat made of straw, but a piece of felt, the picture is called the "Straw Hat". From what? The thing is that the writing of the words "straw" and "felt" in French have similarities, and the person who compiled the list of paintings simply made a mistake in writing – an error and gave the name to this magnificent picture.
Shown here is not a society lady, and one of the close relatives of the artist. This is none other than the elder sister of his second wife. Image of Susanna Fourment can be found on several canvases of the painter. At the time of the painting, she was a married woman, which can be seen on the ring, dressed on the index finger of her right hand – this is a picture of her wedding portrait.
The composition is quite simple – a portrait made from the waist, his face turned to the viewer to three-quarters. But how saturated colors and paints, what an amazing splendor of fabrics and the play of light! Rubens with great inspiration, autographed this portrait (which is important for his contemporaries, because we all know that many of the paintings in his studio and was finishing paint on his students, not less talented artists).
The black wide-brimmed cap slightly obscures the face of the girl, which creates surprising reflections on Susanna's face, partial shade. The artist so skillfully and skillfully plays with light and colors, depicting both her face and the velvet folds of the dress, which is impossible to look at this picture with indifference. Life, freshness and youth flow in it! On a blue background, similar to the free heavenly space, the girl's figure seems even brighter and more attractive, lighter and airy.