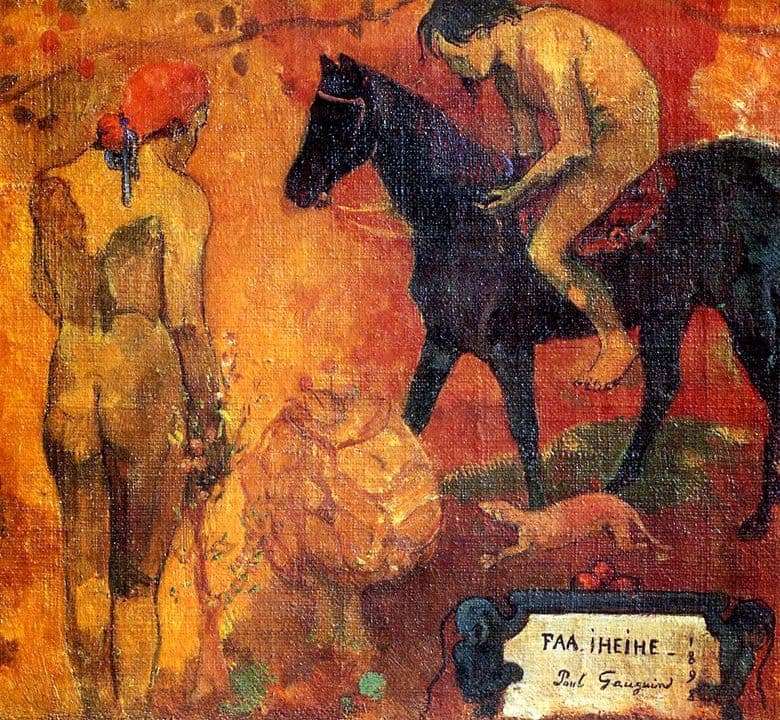 The most beautiful works of art in Gauguin are themes related to the tropical island, which became the inspiration for the artist. In his painting Tahitian Pastoral, Gauguin wants to get unity in form and in palettes. The picture is made in warm colors that accurately convey the mood and atmosphere in this exotic island. The animals present in the picture hide the meaning and are the personification of the signs. The faces in the picture are presented in a rude manner and show courage and strength, being different from others. A bright and rich colors help you go back to a hot island that lives its own life.
The painting depicts a stately figure of a Tahitian woman who listens to the speeches of her lover, perhaps, depicted sitting on a horse. And the animals on the canvas create a feeling of unity with nature and harmony with people. Looking at the picture, mentally immersed in a sultry island, where the sun bakes, and residents go about their business. It is known that the artist Paul Gauguin himself visited this island and more than once, inspired by its beauty, and it was these motifs that formed the basis of his famous works.
The picture is special and interesting because the artist Gauguin refuses to use light and shadows in this work, conveying images through a bright and sultry palette. The embodiment of Tahitian life and the transfer of these warm sensations is the task of Gauguin, who unequivocally dealt with this. The viewer gets the opportunity to enjoy this masterpiece and become an integral part of Tahitian life.