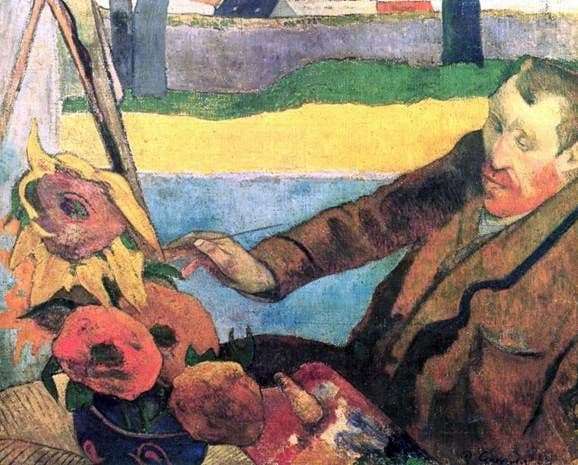 The outstanding postimpressionists Gauguin and Van Gogh in 1888 worked as a creative duet in the south-east of France – in the city of Arles. The year before, the painters had a chance to meet and exchange their own paintings in a friendly way. In the future, the relationship between artists of genius radically changed.
The joint work could cause irritation, constant skirmishes, and even the famous episode with the cutting off of Van Gogh's ear occurred in the same period. But there were also positive fruits of the interaction of the French and Dutch masters of painting, namely, some wonderful paintings. "Portrait of Van Gogh" – just one of them. Paul Gauguin performed it in 1888.
Gauguin writes Van Gogh in his unique style. Sunflowers so beloved by their colleague are also depicted without imitating the style of Van Gogh. We see the artist sitting at work. It captured the moment when he froze in the process of creative flight of thought. In the left hand there is a palette filled with all sorts of color mixes. In his right hand – brush, brought to the canvas on the easel. The work of the artist in full swing.
But viewers do not see the result of Van Gogh's art. Gauguin decided to portray the picture turned to us. One can only guess that the famous post-impressionist painter writes his favorite flowers – big sunflowers. They stand nearby, on a table, in a beautiful blue vase with patterns.
A plain brown jacket hides the figure of the person being portrayed. A face with a recognizable red beard is shown somewhat coarsely. The facial features are indistinct, blurry, angular, in many respects different from the rest of the numerous portraits of Van Gogh.
The background for the portrait is the colorful wide strips of different colors, so characteristic of Gauguin's paintings. Pure colors are successfully combined with each other: yellow, green, light blue and lilac.