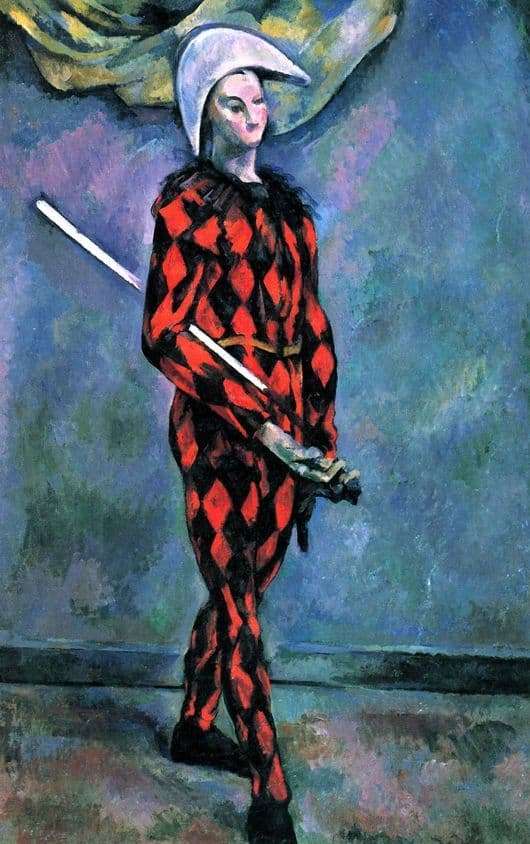 The era of revival in painting is an amazing period of creating unique masterpieces. Paul Cezanne is a French impressionist painter who was a craftsman in describing a person's life and soul. All the pictures painted by the creator bore the imprint of his inner world.
Interest in life awakened masterpieces that carry the mysterious power and power. The experts were surprised when the artist created the "Harlequin" theater piece. It was one of the last works of the impressionist. Without being carried away by acting games and roles, the artist quite clearly describes the life potential of the theater as a whole.
The image of the sad jester Harlequin, unwittingly reminds restraint and patience, which were typical of Cezanne. Cubic forms show the sharpness and darkness in which the actor fell.
Aloofness is pronounced on the canvas, the artist clearly and simply tries to show the Harlequin contradiction to the outside world. You can see that the clown's mouth is missing. Unwillingness to communicate expresses actor Harlequin. Attachment to the theater for a jester – that's life. Laughter through tears that no one should see.
The strict camp of Harlequin reflects a certain self-doubt. The reaction to the theatrical play of the actor excites everyone. But will he come on stage this time? Considering this composition, one can understand the instability of the artist's feelings.
Cezanne is characterized by warm and modest motifs of colors, however, the red Harlequin costume with black diamonds is conspicuous.
If we take the general development of painting, then the theatrical art form is always fascinated by the fact that it hid secrets. Features of ignorance smoothly intertwine with bright tones, despite the emotional anxiety. Paul Cezanne is one of the few who made cubic forms humane, guided only by their own emotions. Indicator of strong acting, despite the negative state of mind.