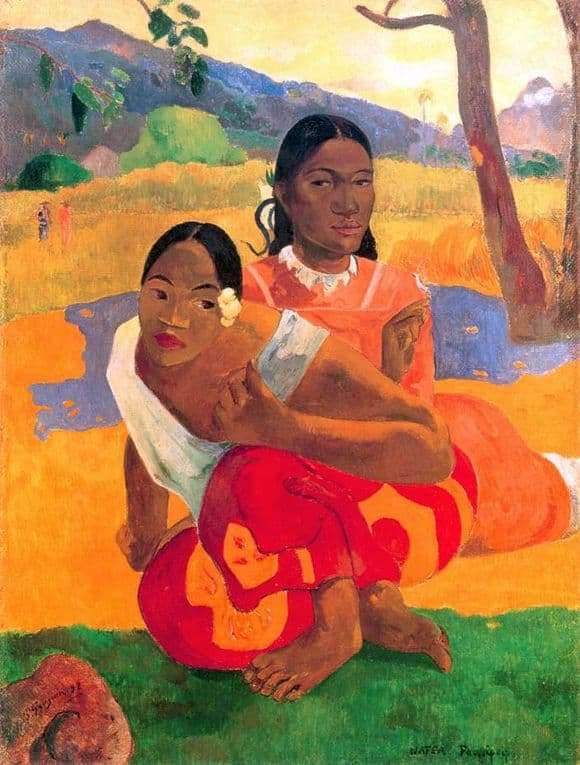 Gauguin created this unusual picture in 1892. The artist was looking for a paradise that must be on earth. It is for this purpose that he visits the exotic island of Tahiti. At this time in France they tried to create unusual paintings in the style of primitivism popular at that time. But they were all rather artificial. When Gauguin visited Tahiti, he suddenly realized that he represented this island in a completely different way. In fact, everything was different.
The local population practically destroyed the colonialists, as well as various diseases. But the artist has a huge number of works in which he prefers to depict the islanders. Gauguin uses the most juicy tones. To write the earth, he takes yellow, blue and green. Before us are two women. In the front dress islander in a traditional dress. Right behind her is another where you can see missionary outfit. In all its shape strictness is felt. She warns or threatens something. The woman, who is depicted in the middle plan, is captivating with simplicity. Gauguin painted her in an unusual pose. She all gracefully curved, showing the audience its beauty.
The woman behind her is written on a juicy yellow background. Her face is in the very center of the canvas. The artist prescribes the features of her face. This image is more individualized. This woman's pink dress attracts attention. It is completely different from those tones that the painter uses in this picture. The riot of colors is impressive. Gauguin creates a magnificent creation, striking in saturated tones. Researchers rightly believed that Gauguin's indigenous people of Tahiti were idealized. He portrays them as if their purpose is in songs and love. It seems that the artist sought to attract the attention of viewers to his works. But contemporaries took his creations very cold.