Home

⇒
📌Cezanne Paul

⇒
Description of the painting by Paul Cezanne "View of the Over"
Description of the painting by Paul Cezanne "View of the Over"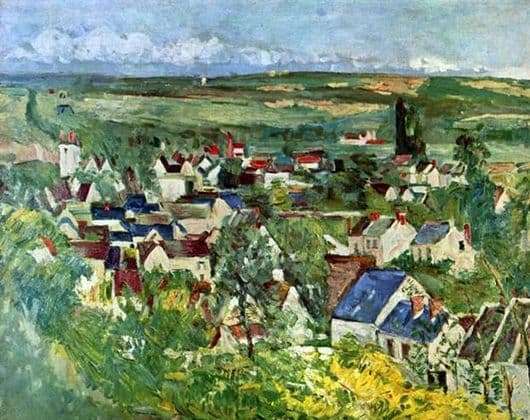 The painting was painted in 1874.
The landscape of Auvers was a favorite motive of the Impressionists, and Cezanne as well.
Simply striking maximum simplicity, a special sketch and a lively atmosphere. The landscape is very soft. From him comes a special peace. We feel how measured life flows. The whole space of the painting is occupied by houses located very close to each other. This gives the canvas saturation, the paint layers are very dense, crowded, the spots of color are completely knocked down.
It seems that this is an illustration of a fairy tale from our childhood, in which the end is necessarily kind. Small houses with roofs of different colors – a whole miniature kingdom in which very kind people live.
In this world it is constantly sunny, pleasant warmth emanates from the earth, the singing of birds is barely audible. It is very quiet and joy flows like a nice warm milk. This fabulous world
has no end, its borders go far beyond the picture. We feel the true reality of this world. It is incredibly voluminous and clear. So you want to believe that he actually exists.
The landscape of Sezana is like a sketch. The smudges of paint, the tinting is slightly transparent, the color is infused very softly. Details are not worked out. It seems that this is a sketch. The silhouettes are completely blurred and unclear. The lines are broken, the outlines of objects are ghostly. The image is similar to a photo that is made from several pieces. It's like a photo collage.
Reality is revealed to the audience as a special plant or a flower magnificent in its pomp. Reality grows and gradually it includes more and more new smells, contours and silhouettes. The world from this begins to sway and tremble. Grayness and uniformity completely go away. The sky on the texture of the most diverse. The picture sounds incredibly lively. We feel the dynamism and fragmentation of life.





(
1
votes, average:
5.00
out of 5)
Description of the painting by Paul Cezanne "View of the Over"