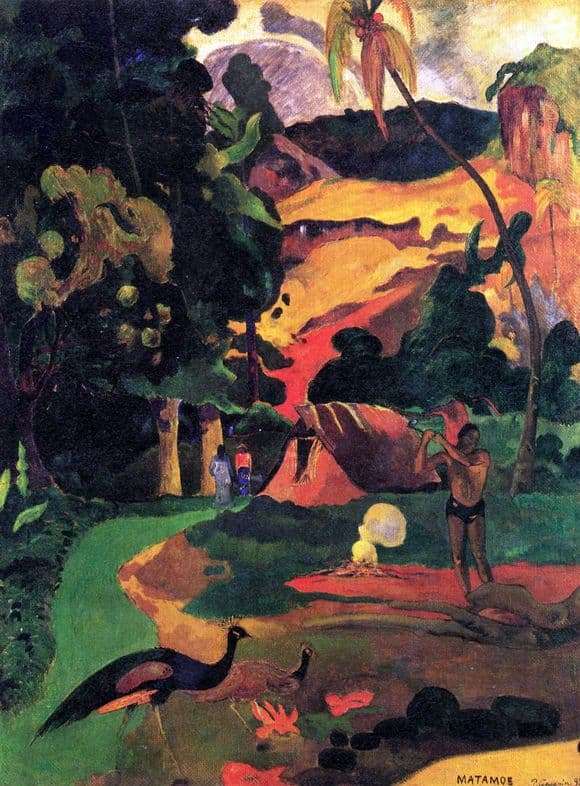 Bright, saturated with contrasts colors in the plot of a measured life of a people far from civilization and a mysterious inscription in the lower corner of the picture – "Motamoe". This is the painting "Landscape with Peacocks", created by Gauguin in 1892 on the Pacific island of Tahiti in the heyday of his artistic gift.
Like the rest of the works of that time, "Landscape" has an unusual color, made by applying the imposition of multiple layers of oil paint. The composition is built up by several plans. Directly before the audience appear two figures of peacocks, walking around among the flowers and large stones. Next – a young man in the process of labor with a tool for cutting trees thrown over his back. Even higher – a hut and two female figures.
The top half of the picture is occupied by landscapes of mountain climbs, peaks and cliffs. A surprisingly high, curved coconut tree crosses a hilly background and stretches its top into the sky itself.
Peacocks, judging by the name of the picture, – its main characters look rather inconspicuous: a small reddish female, a larger dark blue male with folded plumage. But it seems that the pomp and beauty of the peacock's open tail is expressed in the variegated colors of the whole picture.
The second title of the work is translated as "death."
Gauguin explained such a paradoxical designation for a painting that blooms with bright colors by the fact that the scenes of island life he observed killed a civilized person in it.
"Landscape with peacocks" gives us the artist's impressions of what he saw exotics during his walk, with the help of visual tools he plunges into a state of colorful sleep, fantasy, dreams. Paul Gauguin performed a marvelous, kaleidoscopic, eclectic picture of a secluded corner of the earth, where man harmoniously coexists with the natural world.