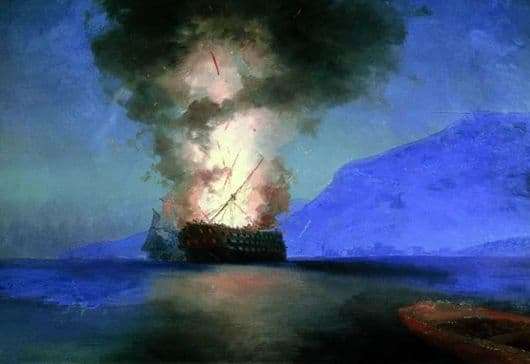 Ivan Aivazovsky was born in Feodosiya, located on the seashore, and was in love with Him until the end of his life.
During the long and extremely successful creative life, having survived two generations of artists, until the last days managed to preserve youthful greed for the knowledge of the Beauty of the Sea and the search for more and more new advantages in it.
… Even to the already created wonderful Creations, already world-recognized by contemporaries (the very fact of such recognition during the Life of the Artist is an indicator of the Greatness and Uniqueness of his Creativity) I. Aivazovsky, until his very last days, came back again and again in order to try to Improve everything already recognized the world, as brilliant!
"The explosion of the ship" – the last unfinished painting by I. Aivazovsky, interrupted by the death of Genius. It is the most vivid example of his ever-increasing demands, even to the already created and recognized great work, expressed in the search for new solutions, views, as well as sketches of future works not by drawing from nature, but in accordance with his fantastic imagination and understanding, Feeling of Beauty and the Forces of the Sea.
So, for the painting "The Explosion of the Ship", the Artist wrote a cursory stroke in three versions of the composition sketch – in vertical and horizontal rectangles, and he almost completed his works. In the central part of the picture the ship is in clouds of smoke and embraces of fire, flying in a halo as a result of an explosion of the bays of the river, masts and other ship devices. The master managed to contour to depict a boat with Greek patriots retiring from the ship.
A mountainous island is traced with the buildings of the city at the foot of the mountains. Completion of the canvas, most likely, was postponed "for tomorrow", however, during sleep, there was an "explosion" of the heart of one of the great people of the XIX century.
In April 1900, the last Day of the Life and Work of the Artist ended.