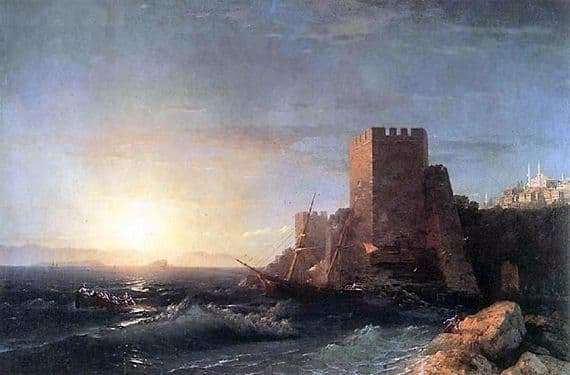 "The Tower on the Rock near the Bosphorus" is one of the paintings by Aivazovsky, written in his usual style, so that the sea on it is the main character, takes the most place and demands the most attention to itself.
A glance is literally attracted to them – green waves foaming, rolling on a high rocky shore, and a ship is beating in the waves – like a wounded bird, trying to swim away from the shore, avoid death on the rocks, but cannot. The element is stronger – pulls, tears, the sails fall and crumpled with torn rags. The sailors are saved in the boat – everyone is looking at the ship, he was him and the house and a friend, but he was already dying and they could not be saved.
A lonely man stands on the rocks at the edge of the surf – maybe a sailor, who rushed before the others into the waves and emerged, maybe someone else's, extra, heard the moans of a tree beating against the rocks. The old tower idly gazes at the drama unfolding at its foot. On a hill in the distance, the city glows with a clean, radiant whiteness – tall towers, spiers, nice houses. And the whole picture is flooded with the golden rays of the dawn sun.
It is huge. It floats over the horizon, painting the sky in gold, the city in whiteness, and the sea in emerald glitter. The waves are full of gold, mixed with blue, it becomes an emerald.
At the same time very dynamic and dramatic, and a very bright picture – this combination seems almost cynical, but the world is exactly like that. Not everyone drowns on rainy nights, the weather does not always suit the events taking place, and the sea doesn't care when throwing a fragile shell on the rocks, the creation of human hands – in the early summer morning or autumn afternoon.
The sea is indifferent, because such is its nature. Infinitely detached, wise and changeable, it sharpens the shore, because "A drop drops a stone." Sometime in the place of the rocks near the Bosphorus, the endless sea will splash – as it was at the beginning of time.