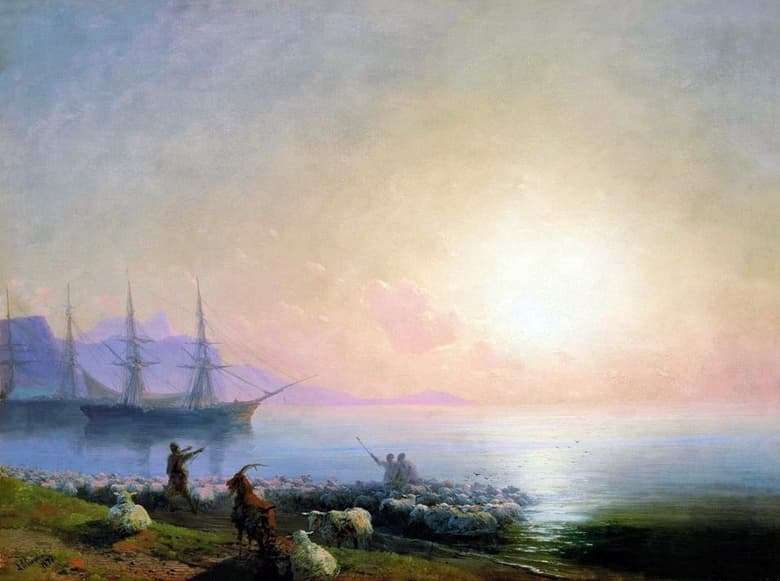 Created in 1877, materials – oil on canvas; dimensions – 46 by 62 cm. Exhibited at the Art Museum named after V. P. Sukachev, Irkutsk, Russia.
An impressed artist dedicated several works to this topic, the most famous of which is in Odessa. This is distinguished by pastel ease, it is hard to believe that such an effect could be achieved with oil. The upper part of the picture is a soft, incredibly airy and very warm sky. On it scattered golden and transparent pink rays of the rising sun. On the right, the horizon is almost indistinguishable from the calm sea, and on the left it is marked by weightless, light purple-violet coastal mountains. On their background the ships traced with thin lines seem to be full of magic. They as if did not wake up to the end and did not spread their wings-sails.
In such a majestic and pacifying landscape, noisy drivers and their numerous herd seem superfluous and too prosaic. They are busy with their business and do not pay attention to the incredible beauty of the moment, which the painter caught and conveyed on canvas. But such is the whole of human life.
Interestingly, when creating the foreground, the master used a completely different, mostly uncharacteristic technique – small, multidirectional strokes, highlighting the details and rich in color, which are characteristic of the Impressionists. Green, ocher and orange-brown, he writes the shore, where pebbles and blades of grass are visible. The sheep's wool does not look white – reflexes from the earth and the horizon lay on it in semitones. And if the animals closest to the viewer are detailed, then as they move away, they emerge from the water, as if slightly blurred. It happens when you look against the light for a long time.
The left lower edge of the canvas is opposed to the right one, the darkest in the whole canvas, here, as if from the very depths of the sea, a dark green and yellowish-marsh color appears. This dark spot is reminiscent of last night and balances a complex composition.