Description of the painting by Gustave Courbet "Wave" (1870)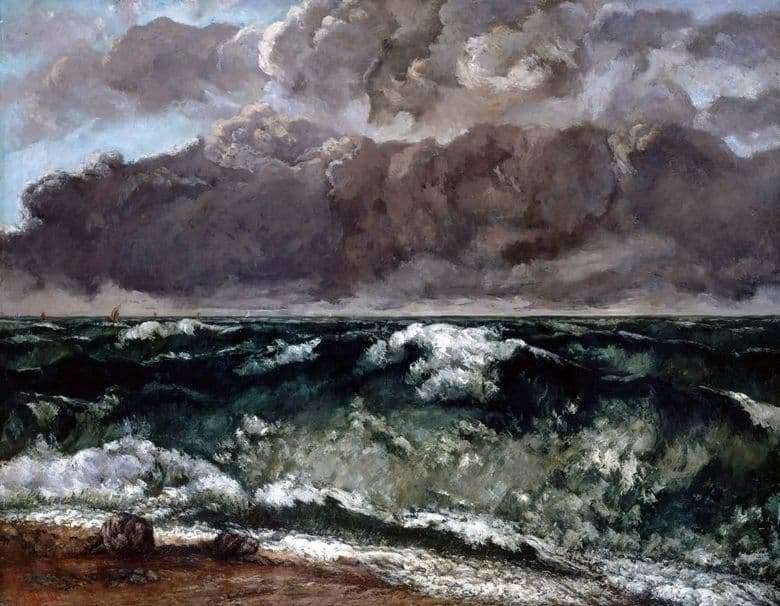 In the last years of his life, Courbet painted beautiful seascapes. The artist called his marines – landscapes of the sea, insisting on this term and focusing on the sea. Although one of the main features of his marine paintings is the domination of the sky over water: on his canvases the skies began to occupy more than half of the canvas.
Landscape "Wave" is considered one of the best works of the master, it is stored in the Louvre. On the canvas in front of us, as if for a moment, a wave broke in its powerful onslaught. On the canvas, almost equally divided by the sea and the sky, the clouds draped over the sky. Their colors vary from gray and green to lilac and pink, this effect is striking in its formidable splendor. The color of the wave also shimmers with all shades of dark green, making an indescribable impression with all sorts of deep coloristic transitions that surprisingly convey the power and power
of the elemental forces.
The painter preferred to paint from life, showing on canvas the reality and three-dimensionality of the world. The artist abandoned the tradition of writing the sea in a subordinate and auxiliary role, only as a background to show people's destinies. Seascape Courbet unsociable. A piece of shore, sea and sky. The receding water threw stones and algae on a strip of sand. A piece of the seabed briefly opened to the gaze after the rolled shaft. Thick shadows of clouds running over the sky hung over the horizon.
Every detail is material. Everything is extraordinarily vital and expressive. All items are remarkably transmitted: water, air, stones. However, the spectators are interested more deeply by the frightening ominous anxiety, the power of the angry nature that played out, rolling foaming billows and pushing clouds. Using the work of the palette knife and applying paint coarse strokes, the artist sought to layering his works.
Seascape Courbet played a crucial role for the creation and development of a new direction in modern European painting. His innovative techniques in depicting the sea landscape were supported and continued by generations of followers – the creators of painting.





(
2
votes, average:
4.00
out of 5)
Description of the painting by Gustave Courbet "Wave" (1870)