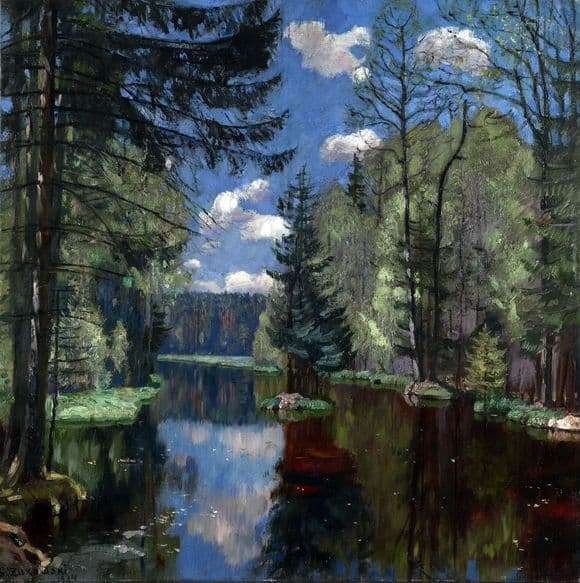 Zhukovsky is a master of landscape, and Forest Lake is one of his quite traditional works. The painting depicts a forest lake, the surface of water bounded by distant shores. There are trees growing on them, there is a leaning booth – someone's boat shed, perhaps? – and above the lake is a huge blue sky, which in its infinity resembles the sea. On it float clouds, feathery, light, in which it is so nice to look out for ships and sheep, and these same clouds, imitating the sky, reflect the lake.
In it, too, lives the dream of being like the sea, and it is trying very hard. The surface of the water wrinkles the wind, drives a ripple through it, which is why the clouds also frown and their shape changes. The far shore, allowing the lake to dream, seems to be moving away, limited by a strip of dark blue water, and there are no people in the district, except for a booth – not a single trace of human presence.
Perhaps the fishermen come to the lake. They build a tent and for a few days are excluded from the life of the world. They catch fish and roast it on a fire, drink moonshine stuck with them, get up before dawn, when the best bite is to see the sun reflected in the lake and catch the best, largest fish.
Perhaps, sometimes a lone hunter comes to him. Sits on the beach, cleans a gun, bathes or gathers water to get drunk – the lake looks so clean, so innocent that it does not seem like a bad idea.
Perhaps, sometimes lovers come to him, look at the other side, make bonfires and talk about the nature of their love, as well as the beauty of the world around.
Children, mushroom pickers, lost people – all of them will find something to do at the lake. Catch fish or wander knee-deep in cool water, swim, making the neighborhood scream…
The picture is nothing of this. The lake seems ideal for an old riddle: "Is there a sound in the forest, where there is no one to hear it?".