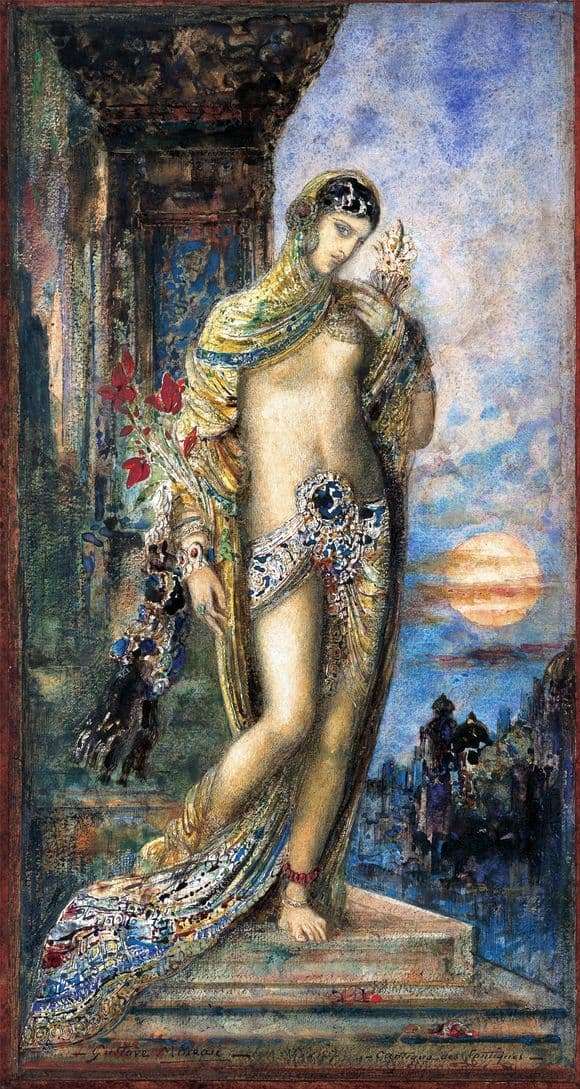 Gustave Moreau is a bright representative of the Symbolists. He chose mystical, biblical, and fantastic themes as themes for his works. His paintings had a strong influence on the creations of the Fauves, as well as the surrealists.
Moreau was well acquainted with the art of earlier centuries. He loved the beauty of Eastern silk, the splendor of porcelain, and the brilliance of weapons. The painter specially isolated himself from the whole society. He did this in order to devote himself entirely to art. His life is surrounded by mystery. Creativity of the painter, as if divorced from reality.
Each picture Moro deliberately saturated with a mass of amazing details. We see a beautiful woman. She is dressed in a magnificent outfit that allows you to maximize the beauty of her body. Before us is the real eastern goddess. Glitter gems and luxury fabrics excite their magnificence.
On the other hand, it seems that before us is not a living person, but a real statue of the times of antiquity. The grand column in the background and steps, more like a pedestal, reinforce this impression.
In the background is a city. He is deliberately not registered. Buildings and domes merge into some kind of magic haze. The sun that illuminates the picture is just as unusual.
The artist skillfully uses flowers. His painting is saturated with flowers. The richness of the shades is impressive. Transitions and combinations surprise and create a feeling of unreality of the image.
Moreau believed that he kept traditions in his works. About the works of contemporaries responded rather scornfully. The painter sought to follow his own nature, and also wanted to express his vision of the world. Each of his paintings is a real masterpiece that I want to consider. There is not a single extra detail in his creations. All of them help to understand the general idea of ​​the artist. It becomes clear to the viewer what Moro lived and what he wanted to say to all of us. It is no coincidence that the painter became the forerunner of modernists.