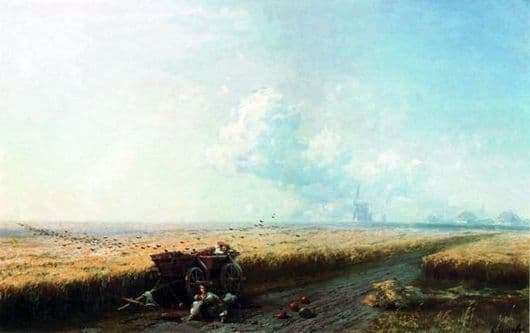 In Aivazovsky, it is rare to find canvases where there is a terrestrial landscape. After all, all its basic canvases, in one way or another, are connected with the sea, with sea distances and with incidents in the expanse of water. And then suddenly a rural landscape, and even some. In terms of its power, it is not inferior to the landscapes of Kuindzhi and Savrasov, Polenov.
See how cool everything is spelled out. The road, the fields, the mill and the village in the distance. Apparently very recently started harvesting wheat. And now it was already noon, it was hot, and the people who worked in the field decided to rest a bit. At the big cart, who is upstairs who is downstairs sat down a little rats to rest a little. In the meantime, birds have flown to their work. After all, gathering wheat anyway, willy-nilly, they fall from the ears of grain, so the field birds, mostly the crows, fall for it.
Aivazovsky was good at portraying the sea, the sea. But here, too, he managed to portray a completely different "sea" – the air. It is also blue, like water and the same may change depending on the weather. Now the changes are near. Clouds on the horizon, the usual summer clouds, which will soon turn into autumn. But there is still a lot of harvest, to have time to remove the bread. But to work in such a haze especially and do not want. That's why we decided to rest in the shade of a wagon, to eat, to tinker with the children. Previously, after all, the whole family went out into the field and all worked together from dawn to dusk. Such was the way of life, such was the rule of nature.
Those who were the first to finish the harvest, he went to help to someone else who has not finished the work. And so, the whole world cleaned the village plots. Yes, actually everything in the village was done jointly: both the houses were built, and the fields were cleaned, and they grieved together and rejoiced. The artist managed to catch it – the world of the village, its spirit. And let it not be so obsessive, but still beautiful, juicy, purely Ukrainian rich in spirit.