Gustave Courbet picture description "Self-portrait with a black dog"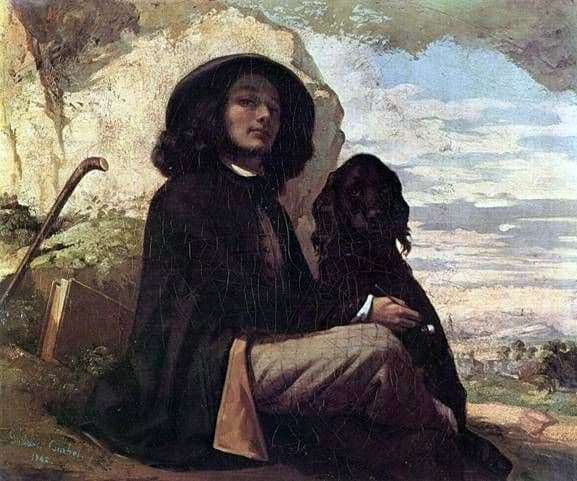 The Frenchman Gustave Courbet in the course of creative development passes from romanticism to realism. Pictures in both genres are equally interesting and valuable. The artist worked in a romantic direction, creating his own portrait with a dog. After completion of the canvas in 1841 will be called "Self-portrait with a black dog."
At a rather young age – 21 years old, G. Courbet paints a self-portrait of a self-confident artist. In the look of the young man even proud self-confidence is read. This maximalism of the painter does not spoil the picture.
It is difficult to deny the beauty of a young French artist. His features are harmonious, pleasant. The face is framed by magnificent black curls.
Can be seen in the image of a young man inquisitive naturalist. On his head – a large wide-brimmed hat, shading his eyes. He is dressed modestly but neatly and elegantly. Gustave sits in the lap
of nature, on the grass near the rocks themselves. In the distance trees, mountains and the sky are visible. This depicts a locality in the area of ​​the French commune of Ornans. Near the young painter is a thick folder with drawings.
The black dog, apparently spaniel, was presented to him the day before. The dog's wavy hair echoes perfectly the curly head of the portrait's author. Attracts this striking harmony in the combination of flora, fauna and human nature.
Courbet painted himself on canvas in oil. Technique portraits deserve excellent marks. The beginning painter managed to construct the perspective correctly, verified to determine the proportions of all the objects of the composition. As for color, the portrait painter did not stint in the choice of various shades. The rock behind the figure of a man glitters beautifully in the sun. Blue sky covered with feathers clouds.
Gustave Courbet created a plastic picture with the image of a mysterious prince, who is entitled to take his place among the greatest artists.





(
2
votes, average:
3.50
out of 5)
Gustave Courbet picture description "Self-portrait with a black dog"