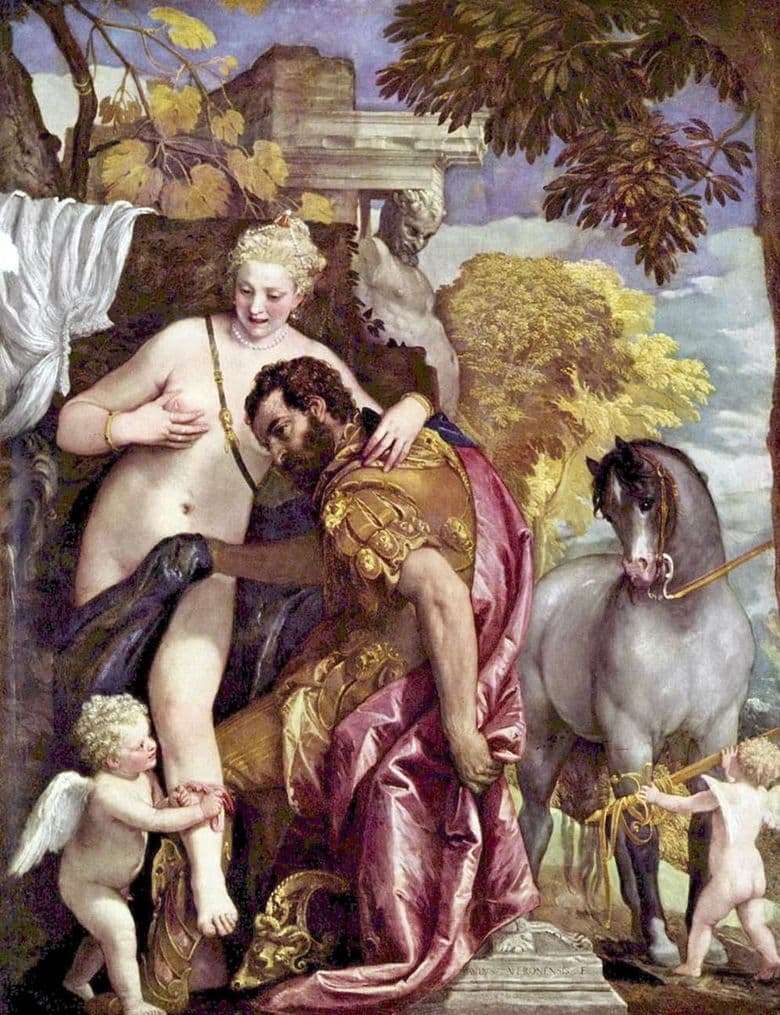 Paolo Veronese – a bright representative of the Venetian school of painting. There were many famous artists. Paolo Veronese clearly stood out among them. He created many paintings on mythological themes. The bright, expressive, extraordinarily beautiful canvas "Mars and Venus" is a masterpiece recognized throughout the world.
The picture is also different in that it has many names. These are "Mars and Venus linked by love", "Mars seducing Venus", "Venus and Mars linked by Cupid" and many more. The artist painted a picture in the seventies of the 16th century. Now she is exhibited in the New York Metropolitan Museum.
There is an assumption that this picture was ordered by Veronese Rudolph II, the emperor, by the day he was to be crowned. The picture reveals a mythological plot in which the main characters are the gods of the ancient world. In the central part of the canvas are Mars and Venus, Cupid is perched on her feet.
Mars, courageous, militant, gambling in battle, here, next to Venus, beautiful, extremely feminine, erotically attractive, calm, even meek, brooding. And Cupid holds their love affair, tying their legs with a silk ribbon. All the characters in the picture, the horse, Cupid, Satyr and the main characters are the magnificent hymn of Love.
The horse is a symbol of passion, Cupid is the deity of Love in ancient Greek mythology, Satire, symbolizing lust, the stone holds tightly in itself so that Satyr does not interfere with the pure feeling of love of Mars and Venus.
Everything in this picture breathes sublime love. Cupid with a sword is standing in front of a horse (low passion), not letting it to Love, satire (lust) does not let the stone, which as if absorbed the servant of Bacchus in himself. However, erotic sensuality is felt not only in the naked Venus. Her beautiful femininity is underlined by a pearl thread in blond hair, a pearl necklace around her neck, gold bracelets on both hands.
The viewer literally feels, feels the lively silk smoothness of a horse, the weight of a cloak hanging from the shoulder of Mars, the warmth of white marble is felt. From tender gesture of Venus (her hand quietly rests on the shoulder of Mars) emanates tenderness.
Paolo Veronese, this Master, and here he painted the spirit of the luxurious, abundant, affluent Venice, the holiday city with its famous carnivals, the feasts of the 16th century.