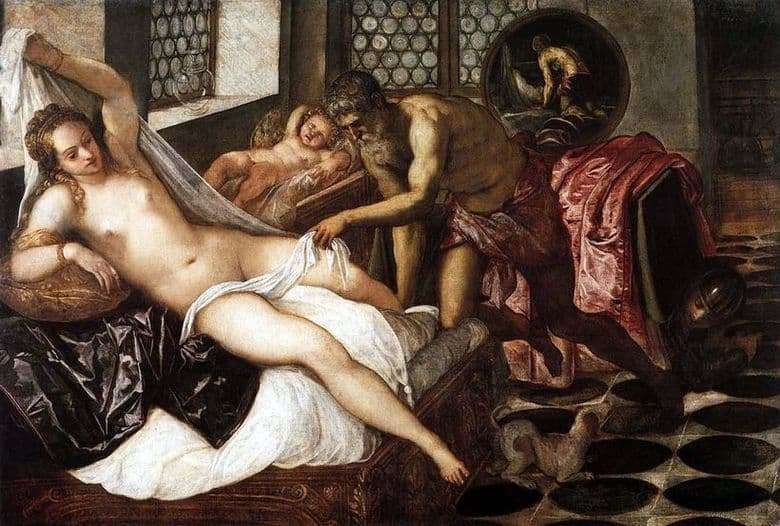 One of the first works of the painter Jacopo Tintoretto is his "Venus, Vulcan and Mars". The painting is depicted in oil on canvas, in 1550. The size of the canvas is 135×198 cm. In it we clearly trace how Titian strongly influenced Tintoretto.
The plot of the canvas tells us about the classic story from ancient mythology, which was described by Homer in his work "Odyssey" (8 song). According to the original source (Homer's Odyssey), Venus cheated on her spouse Vulcan with a young and beautiful god Mars. Jealous Vulcan caught his lovers in the network and made fun of the inhabitants of Olympus.
Tintoretto decided to show his audience the myth in his own way. The god Vulcan suddenly appears in the room of his wife Venus. She had previously been engaged in love pleasures with Mars (this is evidenced by the head of Mars, who, before the advent of Vulcan, decided to hide himself at a table not far from the matrimonial bed). In Homer in the Odyssey, lovers were put on display to the gods. Tintoretto decided to depict this picture in his own way – Cupid, instead of preserving his beloved from troubles, sleeps peacefully in the depths of the picture.
Tintoretto in his work showed a frivolous topic, involuntarily causing a smile to the viewer. The plot highlights the theme of opposing heroes, their unequal marriage. As opposites, we mark a woman with the body of a young maiden and an old man who has beautiful muscles and a gray beard. Their bodies help the viewer to feel the full depth of the work. This rhythmization of the web characterizes the maturity of Tintoretto's work.