Description of the sculpture by Theodosius Fedorovich Shchedrin "Venus"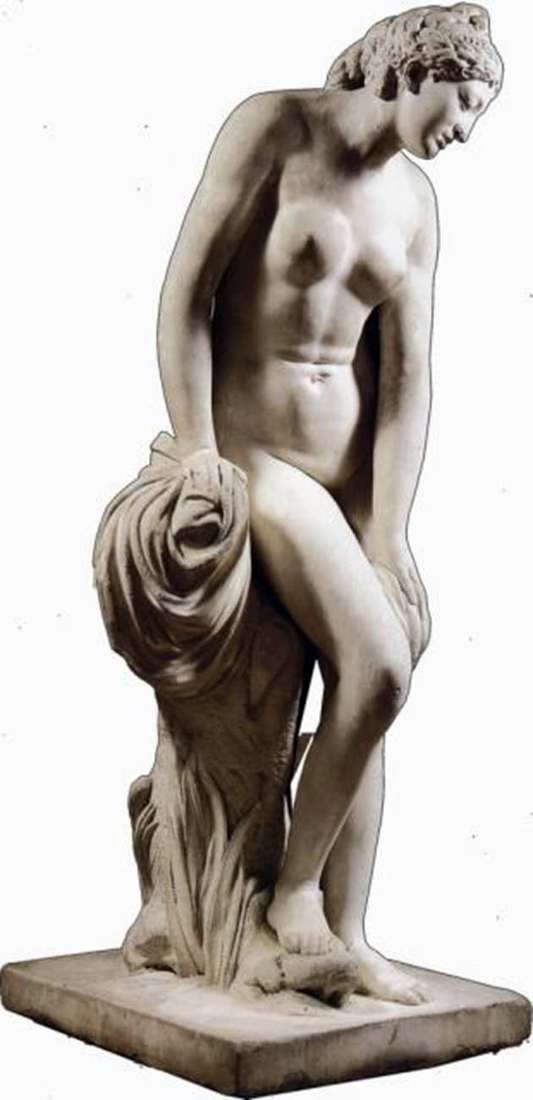 Venus is the goddess of beauty and youth. Theodosius Shchedrin created this sculpture, intending to convey his idea of ​​female beauty.
The woman, presented in the form of a sculpture, amazes the viewer with the smoothness and accuracy of her forms. The construction of her figure is characterized by softness and waviness, and the pose in which she stands is associated with calmness and slowness. So, the girl is depicted after swimming. Having just stepped out of the water, Venus wipes away moisture from the body with a cloth clamped in her hand, slightly leaning forward. With one foot, a beautiful individual has leaned on a root, looking out of the water, her face shows a slight fatigue, and her lips are slightly bent in a smile. Femininity and tenderness overwhelms a beautiful girl, although facial features are not so easy to see. Despite the calm posture, Venus radiates movement, starting with a slight tilt of the head and ending with a slightly bent forward leg.
Contrary to the canons of sculpture, this work of art is in some way unique, because the master embodied his ideal of a beautiful girl, sensual and feminine. Despite the tradition of drawing the goddess of love, this heroine is depicted more thin, and her torso is noticeable, despite the smoothness and curvature of the figure. The shadows of the marble sculpture are not drawn, they fall naturally due to the projections and depressions on the body.
It is impossible not to draw attention to the masterful transfer of the texture of the image: for example, the master paid attention to the folds of the cloth clamped in his hand, the texture of the hair, the roughness of the protruding tree and the smoothness of the shore on which the goddess stands. The ideal is what the author wanted to convey. And undoubtedly, he managed to portray a beautiful woman, radiating sensuality, tenderness and peace.





(
2
votes, average:
4.50
out of 5)
Description of the sculpture by Theodosius Fedorovich Shchedrin "Venus"