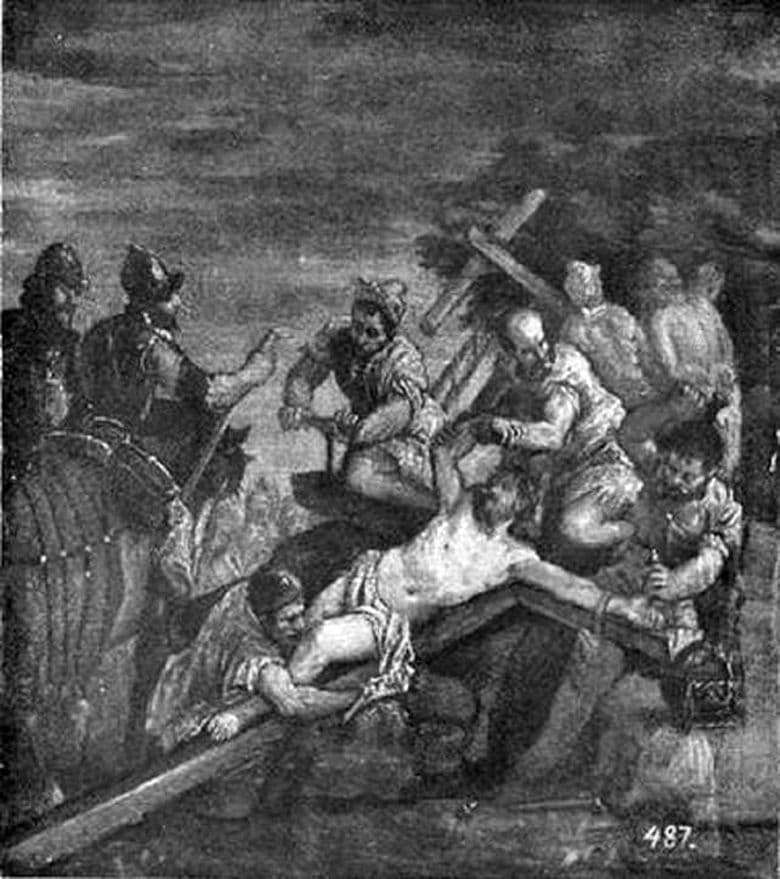 The picture is not large in its size. Only 24.8X22.2 cm. She entered the Hermitage Museum of Decorative, Applied and Fine Art as early as 1772. Until the end it was thought that this canvas, which is glued to the tree.
On the cross, which was raised above the ground, they crucified Jesus Christ. One of those involved in the murder clasped his legs, the other on the right side drives a nail into his palm, the middle executioner holds his hand, and the fourth one drills the side of the cross. The palms are necessarily depicted openly. On the left side, two riders watch everything that happens. And on the right, two guilty robbers go to death in full nudity, who according to the Gospel narrative will be crucified alongside Christ on both sides.
The picture conveys to the viewer all the excruciating pain that is mixed with unconditional horror. The artist tried to recreate on canvas all the terrible agony that Christ experienced.
Due to the fact that doubts have arisen that this picture is a work of Paolo Veronese, namely because of the significant difference between the central part of the picture and the sky above and with the images on the lower, left and right edges, detailed works and studies were carried out.
Against the general background of the X-ray image, the central part of the picture, depicting the nails to the cross of Jesus Christ, is immediately apparent. This part does not give the structure of the base. From all sides it is surrounded by consoles from the thinnest canvas. The soil and the structure are absolutely uniform and clearly manifested.
Across the center, horizontal lines of black letters written in Gothic style are clearly formed. This gives reason to argue. that the image of the Crucifixion was applied on parchment, on which were already previously painted.