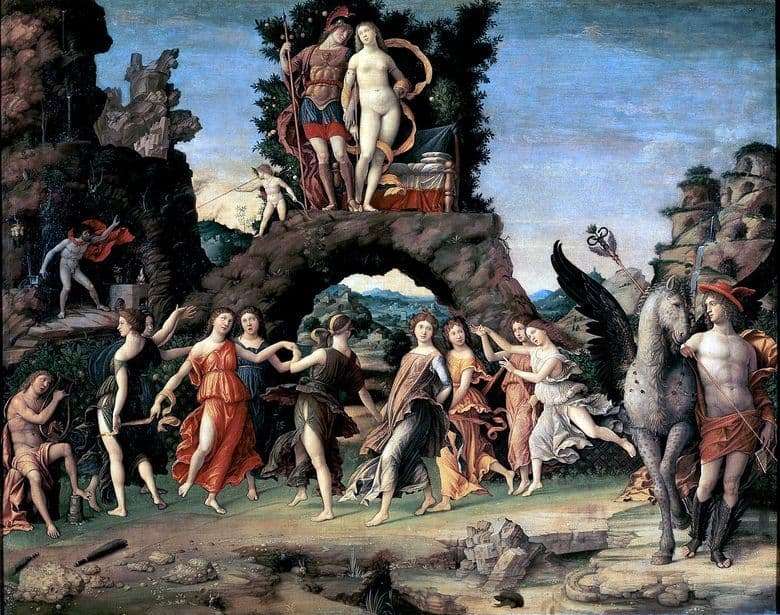 "Parnas" is considered one of the best paintings of Mantegna. They admired the picture, argued and criticized it. However, all the allegories and subtleties of this work have not been able to find out.
It was no surprise that Mantegna decided to choose classical mythology for his canvas. Looking at the picture, the viewer immediately sees the Muses who dance. They are easy to recognize – there are many of them. According to legend, it was believed that the song of 9 Muses could cause cataclysms, which also include volcanic eruptions. To stop the action of the songs could only hit the hoof of the horse, Pegasus. We can find it in the painting "Parnassus". It is located on the right, winged, all studded with precious stones, as if preparing to hit the hoof.
Next to the depicted Pegasus, we can find Mercury, the god who, according to the myths of antiquity, contributed to the future Adulter, who was with Venus and Mars. Apollo helped him in this. In the painting "Parnas" we can also see Mars and Venus – they are located at the top of the picture. The artist depicted them on a stone pedestal. Nearby is a tree with fruits, which is considered a symbol of loyalty, strong love. Nearby, the artist, as if mocking, wrote a bed. Hephaestus, a husband betrayed by Venus, is trying to jump out of the forge. Apollo we can find below, he holds the lyre in his hands.
In "Parnassus", Mantenie managed to unite the figures along with the landscape. The background on the canvas are the cliffs of the rocks. The central arch shows us a perspective, which is removed to picturesque places.
Mantegna will subsequently retain this approach to transmitting human figures. They will be all his stocky, with strong arms and legs.
Cloth "Parnassus" is replete with allegories, symbolism. Until now, many have not yet been able to unravel. The picture is interesting to researchers and its color language.