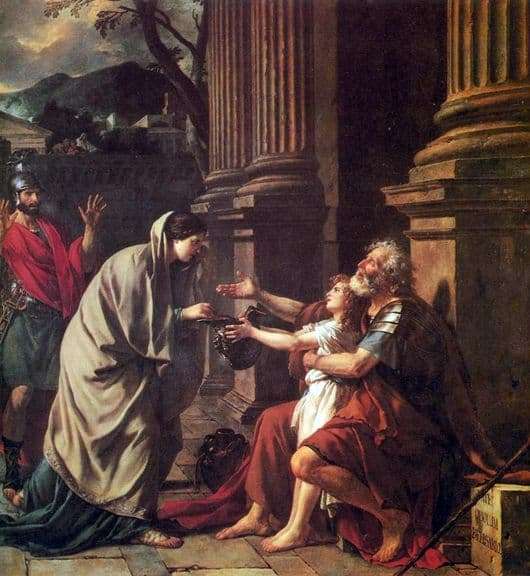 Filled with tragedy, sadness and human injustice, the painting by famous French classical painter "Belisarius", Jacques Louis David, was painted in oil in 1781.
The plot of the picture is imbued with sadness, sentimentality and compassion. She tells of a Byzantine illustrious commander Belisarius, who was slandered and removed from service, condemning wanderings and poverty. He began his service in the Imperial Guard, as an ordinary soldier. During the whole period of his service before the onset of the war with the Persians, he already reached the high rank of commander.
Having won, he was further entrusted with the most difficult battles against vandals in Africa. After that, the commander was instructed to expel from Italy ready, and he again coped with all the tasks. However, the war with the Persians was restored again, and Belisarius was again sent to Asia, where he victoriously ended the battles. But the Italians did not calm down and again began to provoke the Byzantines, however, as a result of various intrigues, the emperor obliged him to retire for 12 years, and later ordered him to blind the unfortunate faithful to his servant. All his property was confiscated.
The picture depicts the moment of surprise of a warrior passing by, who recognizes in the blind old man the famous commander who has undergone human ingratitude.
Belisarius's outstretched arms, asking for help and begging from despair. Pleas for mercy tear the soul apart, and the heart exudes tears.
The guide of the unfortunate man is a boy who sits with a helmet extended in his hand. The woman puts alms, and the soldier in the background, raising her palms in amazement, is shocked by the unexpected meeting with her former commander. He hopes in grief for the injustice of fate.