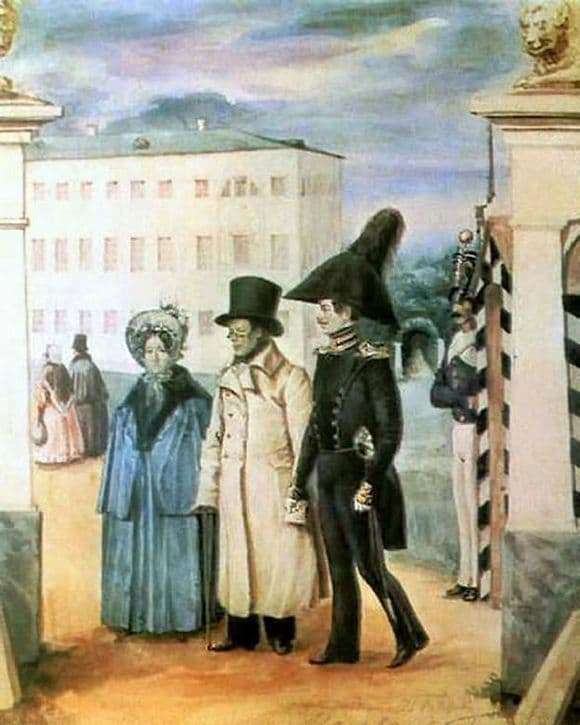 The famous painter of the nineteenth century, the ancestor of critical realism, Pavel Andreevich Fedotov was fond of drawing from early childhood, but did not consider his passion to be a talent, did not see himself as an artist. He served, like many nobles, in St. Petersburg, besides drawing, was fond of other forms of art – he played the guitar excellently and performed romances. In an effort to develop his artistic skills, he took lessons from teachers from the Imperial Academy of Arts, according to contemporaries, made great strides.
Fedotov's small picture is difficult to attribute to any particular genre, rather, it can be called a sketch of a scene from his personal life, leisure time spent in a circle of close people, which so rarely was realized due to long service. A walk in the narrow family circle: the artist himself, his sister and father passed in 1837, one of the busiest Moscow streets.
Some disproportionality of figures, clothes, lack of prospects is explained at that time by the still relatively low mastery of all sorts of techniques by the artist. Later works by Fedotov are more realistic, the images depicted by him do not look as "doll" as, say, in the painting "The Walk".
The question arises: why did Fedotov decide to sketch this particular meeting? How is it so dear to the artist? The fact is that because of the intensive service, the artist was very limited in time, which he could spend with his relatives and relatives, and he could not give himself up to creativity in full, which greatly affected him.
Fedotov portrays himself in the ceremonial uniform of an officer of the life guards of the Finnish regiment. Green leaves can still be recognized in the background, but passersby are warm in autumn. The artist found a place for a warm meeting with his relatives at the beginning of a golden autumn.