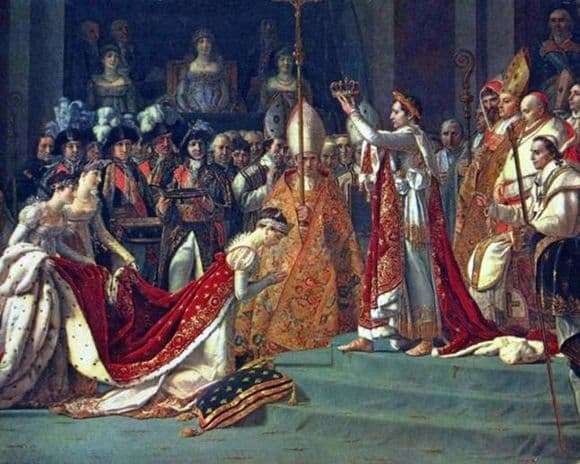 The artist worked on the painting for about two years and created a huge canvas. The painter depicted about 150 characters. Each image is realistic and accurate, the master wrote all the characters from real people.
The artist has long wanted to create a canvas using the theme of the coronation and, after the implementation of this process, began work. The customer was Napoleon himself.
The artist portrayed Josephine and Napoleon. At the coronation blessed Pope, who is also present in the picture. The wand holds the treasurer, it is a symbol of government. A cardinal is present near the pope, who was not present at all during the event, due to illness.
The artist has displayed the entire ceremony in full, completing the missing characters on their own. In the left corner of the canvas there are all close relatives of the emperor. Here are his brothers and sisters, as well as the stepdaughter, who holds the hand of her son, named after the emperor.
Adhere to the mantle of the court ladies. Napoleon's mother sits on the throne in the background. She is surrounded by courtiers, but she was not present at the coronation at all. Perhaps it was the wish of the emperor himself to reflect the presence of the mother, because he treated her very carefully. The picture shows the painter himself with his student.
Despite the realism of this plot, the artist nevertheless finished painting several characters. Perhaps this work is the embodiment of the wishes of Napoleon himself. After all, for a long time, Josephine was opposed to the coronation by many significant persons in the state, and she was never perceived as an empress even after the coronation.
The canvas was a fantastic success. After the overthrow of Napoleon, the picture was long kept in reserves and was not exhibited. Today, the canvas continues to cause delight, and the accuracy of the painter strikes historians. This picture is a kind of historical chronicle.