Home

⇒
📌Monuments

⇒
Description of the monument to Alexander Suvorov in Moscow
Description of the monument to Alexander Suvorov in Moscow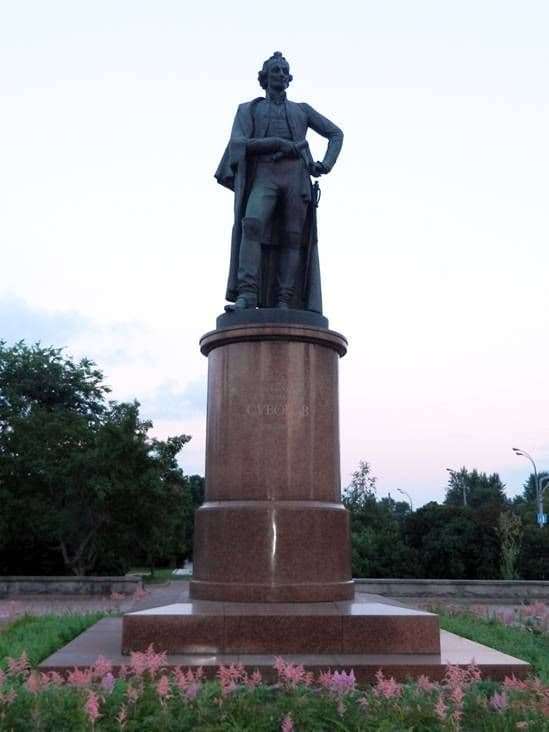 The monument to A. Suvorov in Moscow is located on the square that bears his own name. The monument was erected in honor of the 250th anniversary of the commander. The author of the sculpture is an outstanding sculptor O. Komov.
The sculptor managed to choose the most realistic image of the commander and immortalize him in a monument. The portrait of Suvorov turned out to be the most accurate. Moreover, plastic sculpture most accurately conveys the features of the temperament of the commander. And contemporaries argued that he was of medium height, often with a menacing look. With others he was cruel, but at the same time compassionate. In all the actions Suvorov did not tolerate slowness.
The figure of Suvorov – with classical proportions, harmonious, perfectly assembled. It seems that already a middle-aged field marshal impatiently tapping with his foot, listening to the next report or waiting for some kind of news.
The commander here is wearing a long cloak. Holding a telescope in his hand, he is moderately energetic. The monument is deprived of excessive officiality, but it is also far from secular.
Suvorov on this monument has a lively, fresh face. The sculptor made sure that it was open and turned to the maximum visitor. The face has a somewhat ironic expression, which is facilitated by a slight slope.
For this monument, a very well chosen place – namely, Suvorovskaya Street. The monument is located in front of the theater of the Russian army. The Armed Forces Cultural Center is also nearby. Such an "environment" was chosen for the monument not by chance, given the importance of the figure of Suvorov in military affairs.
The monument is an independent sculpture and architectural unit. Together with the adjoining buildings and the park, which contains unique ancient tools, is the unique cultural ensemble of the capital.





(
2
votes, average:
3.00
out of 5)
Description of the monument to Alexander Suvorov in Moscow