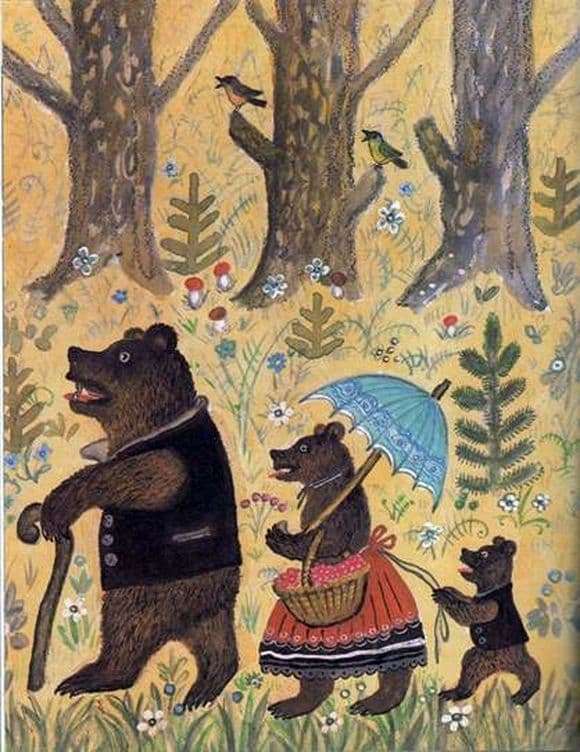 Yury Vasnetsov, as a talented artist in the field of children's art, children's literature and illustrated books, always kept a little apart from all other authors. Yuri studied from Petrovo-Vodkin himself, as well as from such a talented artist of his time, like Malevich.
As a result, Yury Vasnetsov became one of the most promising authors and simply a talented painter. He is given such merit in the field of artistic painting, as the creation of his own and distinct from other style of graphics for literary publications of various formats and content. However, one of his favorite lifelong directions was, of course, drawing for those works. Which are deeply rooted in folk art.
One of the most famous books to this day, to which Vasnetsov applied his professional artistic hand, was the book of another famous person – Leo Tolstoy. Leo Tolstoy wrote a small children's story called The Three Bears. It is noteworthy in this book that Vasnetsov, who painted all the drawings for her, did it not at the height of his fame and not even after he stopped painting, but at the very beginning of his career as a talented and promising illustrator.
After some time, they forgot about the book, but very soon after that it began to be published. Different companies published it, and each of them introduced its own minor amendments to the basic color scheme, font, and other features.
Nevertheless, even minor changes were able to convey the character, mimicry and emotions of the main characters in the picture, which is one of the main merits of Vasnetsov. Due to this, the book about the adventures of the three bears still remains popular, in demand and read among people.