Home

⇒
📌Bilibin Ivan

⇒
Description of the illustration by Ivan Bilibin "A Feast at Prince Guidon"
Description of the illustration by Ivan Bilibin "A Feast at Prince Guidon"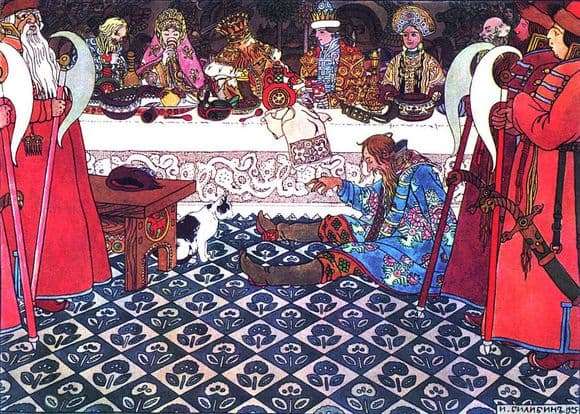 Ivan Bilibin was able to turn book illustrations into real art, which was confirmed by one of his works. The painting titled "Feast of Prince Guidon" is known to everyone since childhood. Getting acquainted with the work of Alexander Sergeevich Pushkin, young inquisitive minds had the opportunity to approach the work of another brilliant master.
The illustration is made with amazing accuracy and scrupulous detail depicted on it. Having embodied the poet's printed life, the artist introduced elements of Russian life in princely times. His characters are more like real people than fictional characters. And traced details only reinforce this feeling. Thus, the story itself, for which this illustration is made, comes to life in the imagination of young readers.
Using his special graphic image techniques, the author managed to subordinate the page plane depicted in the picture from the book. First of all, the sight attracts many colors and their harmonious connection. Color combinations are striking with their decorativeness and convey a subtle and sensual perception of the surrounding world. The sophistication of colors is intended to connect the two parallels in a single composition. It is about the sense of humor inherent in the people, and the bright fabulousness depicted.
The artist builds the composition in such a way as to unite common points of view and achieve a conditional division of space into plans. The color unity of the picture allows to achieve the ensemble image, which the artist wanted to achieve.
Costumes and utensils are depicted by the artist with amazing precision and skill. The rich world of the fairy tale allowed the author to express his imagination, embodying what was written in life: rich colors, thickening of lines, shining paint. The work of Bilibin is reminiscent of the engraving and subtlety of its lines and the sequence of the work.





(
2
votes, average:
2.50
out of 5)
Description of the illustration by Ivan Bilibin "A Feast at Prince Guidon"