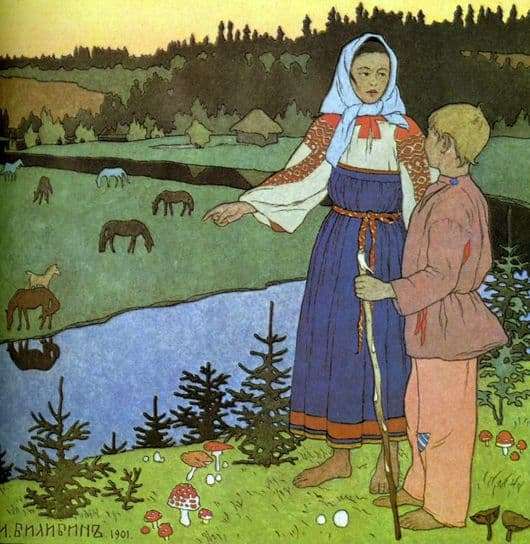 Each of us remembers the wonderful Russian fairy tales that he read in childhood. Over time, they completely changed. People told them to each other, adding something of their own and thereby significantly enriching the overall content. Tales at first were not published. Only in the 17th century, in the second half, began to appear books that were called lubok.
In them it was only possible to find separate illustrations with a little explanation to them. It should be noted that their artistic performance was absolutely poor quality. In the 19th century, many artists became seriously interested in fairy-tale and epic themes. But even here, each topic was transmitted only individually.
Bilibin first created a children's book with folk tales. Large editions were published, there was a huge number of magnificent illustrations. Bilibin's books were truly splendid. Before him, such publications were intended only for the chosen circle.
The artist developed special techniques that allowed him to create single-style illustrations subordinate to a special plane of book pages. His drawings are not separated from each other. This is a whole ensemble. The whole book, including the font, drawings, decorations, was stylized as a manuscript of distant times.
Illustrations are necessarily surrounded by ornamental frames. It seems that these are windows in a village house with fancy platbands. So the artist sought to convey a special spirit of antiquity. The ornament itself is similar to the embroidery of Russian shirts, we also see a herd of cows and toadstools, which express evil.
Bilibin performed his illustrations in the texts of Afanasyev. So the fairy tale "Sister Alyonushka" is different from our usual one. Ivanushka turned into a goat kid, and he no longer became a boy. Alyonushka becomes the queen.
Each illustration of Bilibin was as accurate as possible to explain the text. Even if a person could not read, he could look through the book and understand what it was about from the pictures.