Home

⇒
📌Hals Frans

⇒
Description of the painting by Frans Hals "Smiling Chevalier"
Description of the painting by Frans Hals "Smiling Chevalier"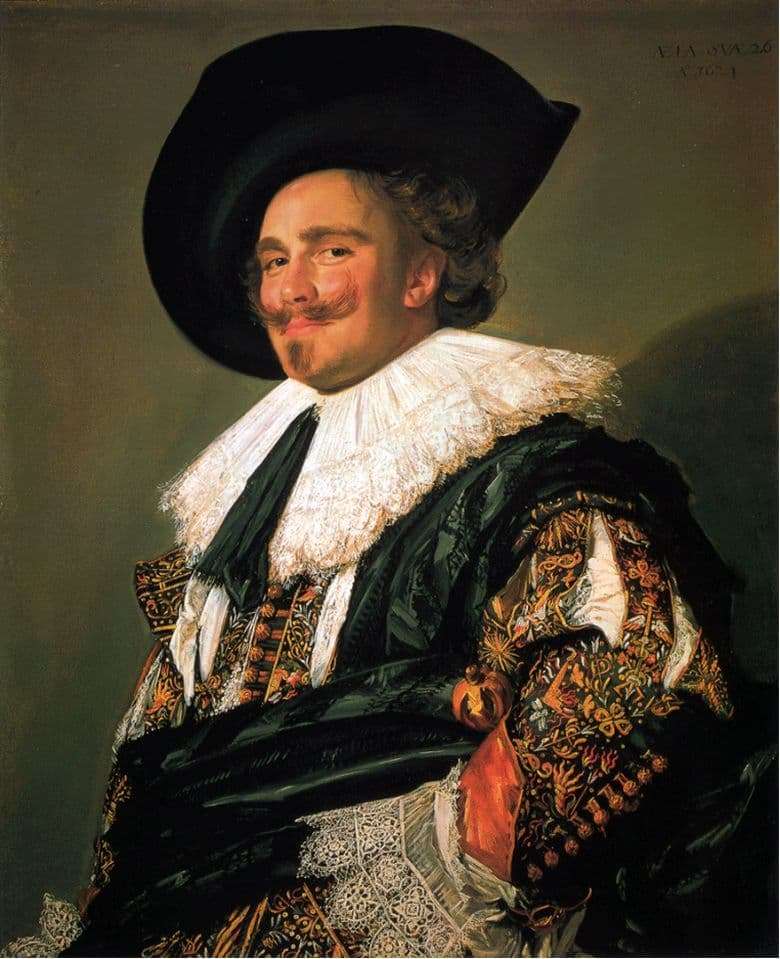 The painting "The Smiling Chevalier" by the Dutch artist Frans Hals was painted in oil on canvas in 1624.
Genre – portrait.
Freedom, immediacy, happiness permeate and saturate the portrait. Looking at him, I want to smile and also glow with happiness. The entire face of the hero smiles – slyly narrowed eyes, ready to wink at any moment, lips, famously twisted mustaches, original beard. Even golden curls under a huge black hat embark on a cheerful and perky dance.
However, perhaps, in the image of the portrayed, not everything is so rosy and happy. In the depths of the eyes and in all its posture, arrogance, arrogance and excessive self-confidence can be seen. It seems that the hero enjoys his nifty costume. But he really amazes with its magnificence! Exquisite snow-white lace on the collar and cuffs are designed in amazing detail and delight with its incredible beauty. Arrows, angel wings,
hearts are embroidered on the sleeves with precise and clear lines of gold, red and green colors. An incredible white shirt peeks out from under the jacket. Judging by the wealth of patterns and beauty in front of the audience – the suit of the groom.
Scrupulousness in the depiction of details is a characteristic feature of the portrait. Carefully worked out not only lace and embroidery elements, but also a mustache, a beard, hair on the head of the hero. It seems that all this is real, everything can be touched, and when touched, the images will not disappear, but remain completely tangible.
The artist has a great color. This is evidenced by the richest palette of black and white on the clothes of the gentleman, the stunning play of gold on the sword's knob, the amazing accuracy of the colors of embroidery. The portrayed one is presented on a gray background, which perfectly emphasizes his image.
Currently, the work is stored in the Wallace Collection, London.





(
1
votes, average:
5.00
out of 5)
Description of the painting by Frans Hals "Smiling Chevalier"