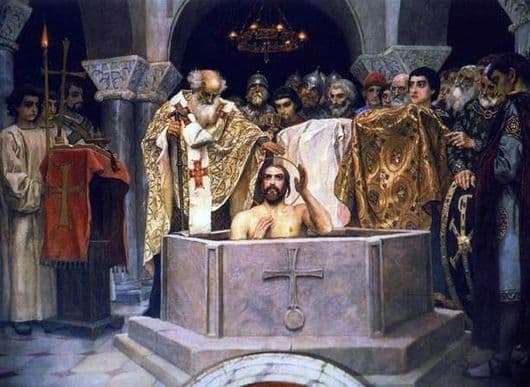 Vasnetsov, Victor Mikhailovich, was born in the family of an ordinary priest, in 1848. He studied at the local theological seminary, then at the famous Petersburg Academy of Arts. After graduating from it, he went abroad and from 1869 began to exhibit at the academic, and later at traveling exhibitions.
Becoming the first painter, and turning to the epic-fabulous scenes, V. Vasnetsov was able to revive them with the power of Art. Also, the Artist's creativity was developed in genre canvases of the first creative period, his portraits and, of course, in religious painting, which marked the beginning of a new era in this field. With his magnificent works, the Master laid the foundation for the unique "Vasnetsov" style, which many people have tried and are now trying to emulate.
The Baptism of Prince Vladimir (1885-1986) occupies a special place among the Master's Creations.
Vladimir, becoming the prince of Kiev in 978, decided to convert his people to Christianity. Subsequently, the prince himself was baptized in Chersonese, and on his return he continued to baptize the population of Kiev, holding it with rigid steadfastness, and saying that if someone from the people did not come to the river, regardless of their position in society, he would become his enemy forever. And they all came.
Creating this masterpiece, the artist for many years studied ancient manuscripts in order to maximize the transfer of the character and personality of the prince. Such an approach allowed V. Vasnetsov to achieve adherence to a clear historicism, this is the fundamental difference between the work and classical icon painting. Clearly traced eyes are concentrated, and express the awareness of making such a fateful decision for the whole country, and the pointed beard and loose hair fully reflect how it looked in life.
The Genius depicted a multitude of people at the Cloth dedicated to the landmark event: priests, princely nobles, warriors and others.
V. Vasnetsov managed to draw as fully as possible each person depicted in the picture, which allows him to see the attitude of a particular class to this event. The priests steadily perform the rite of baptism, the princely army watches the events with curiosity, and the nobility expresses humility to the accomplished historical event.