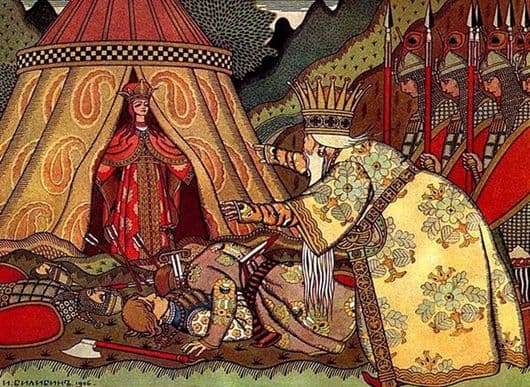 A picture of the famous Russian artist Ivan Bilibin, who was one of the first to consider the problem of illustrations of children's literature. Today it is difficult to imagine a book without pictures. The best illustrations were drawn in the times of the development of children's literature, but still enjoys popularity.
This picture is part of the cycle of fairy tales A. S. Pushkin's "The Tale of the Golden Cockerel". The style that the author used is graphic.
Many pedagogical institutes suggest using this style in working with children. It can be clearly seen as strokes, dashes and other simple figures recreating a complex plot composition. Each direction of the pen gives its character and color illustration.
Bilibin developed a whole system by which you can immediately recognize the work of his brush: the patterned pattern, unusual motifs of Asia and Europe, decorative delights, a symbolic embodiment of the world, a kind of folk humor and much more. Every detail is worked out and unique, for example, the trees in the background have not only different colors, but also patterns.
The picture looks convex, despite the fact that it is located on a single plane. Brightly depicted all the characters of the plot:
Overseas princess – beautiful and confident, proud and arrogant. She gladly meets the king, even though she killed his sons. Wearing a red dress – the color of war – offers not to keep her evil, but to enter the tent.
The king looks stunned by what he saw: from the maiden and the fallen army.
One of his hands is over the bodies of his sons, as if he wants to hug them and pull them close to him. The second is already reaching for the princess, unable to resist. The hunched figure, which expresses weakness and pain, is straining, wanting to seem better than it is.
The army that stands behind the king grieves over his comrades and does not look at the king. True loyalty to the sovereign turns into a terrible tragedy.
Despite the huge number of colorful paints, the picture looks like a single whole and preserves the plot.