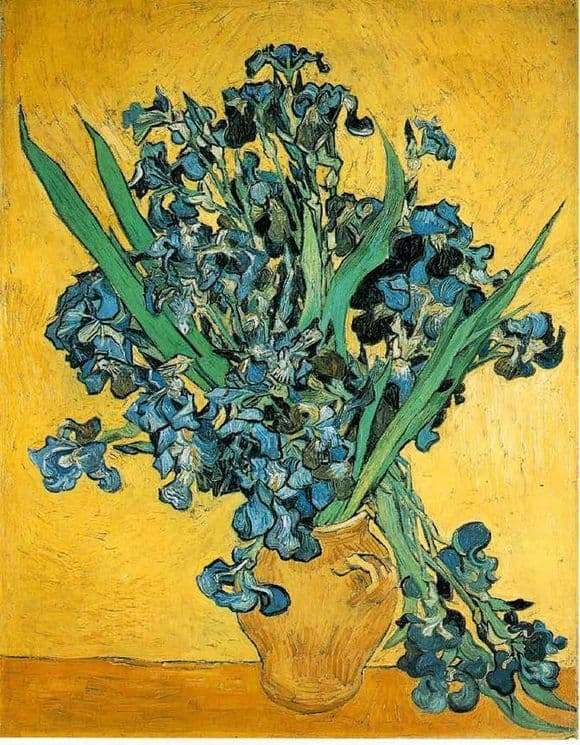 Pictures of Vincent Van Gogh can not be confused with others. His works make a strong and unforgettable impression. Far from academic classical painting and, obviously, from works in the style of impressionism, the artist's paintings are full of vitality, aggressive bright colors.
He created most of his canvases and cult masterpieces in the period 1889-1890. At that time, Van Gogh was treated in a hospital for the mentally ill near the town of Saint-Remy-de-Provence.
It may sound strange, but most experts mark it as the flowering of the creator's creativity.
In April 1890, the artist wrote several variations of still life with irises. Among the numerous canvases stands the canvas "Still Life of a Vase with Irises on a Yellow Background", which delights with its brightness and expressiveness of colors. A lush bouquet is placed on a bright yellow background, creating the necessary contrast. This combination of opposite shades allows you to convey the colorful petals. In addition, using this technique increases the saturation of the colorful tonality of the picture. The composition is built in such a way as to emphasize the contrasting consonance of colors. The artist is not focused on the details, obviously the lack of shadow modeling.
The manner of performance can be compared with Japanese art. The brush is continuously moving, vyplivaya and forming the most delicate petals. The color palette plays in many shades, without putting the blue gamut in priority. Van Gogh favors the black contour in underlining bright blue irises. Whitish strokes draw the depth and relief of ornate inflorescences.
The impasto technique is traced – the imposition of a juicy layer of paint. And, again, this, like deep contrast, does not make the image heavier. The picture is imbued with tenderness and lyrics. Carefully and with love, written out with soft undulating movements, the petals breathe "life", even though their tips are already affected by wilting.