Description of the painting by Vincent Van Gogh "Portrait of Papa Tanga"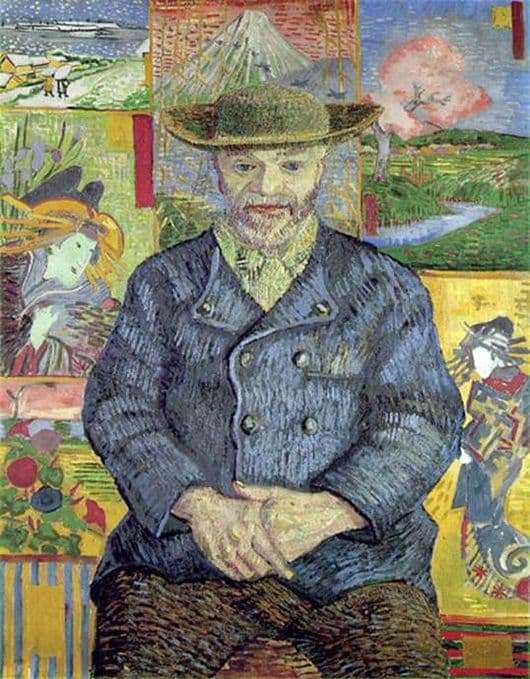 Van Gogh Portrait of Papa Tangi Van Gogh painted this canvas in 1887-1888. Julien Francois Tanguy owned a shop selling items for painters. His clients were not only famous impressionists, but also post-impressionists. Tanguy participated in the Paris Commune. Then he was exiled. The soul of this man is incredibly wide.
For artists in his shop were sold all the necessary brushes and paint. Tangi nicknamed dad for his kindness. Very often, artists did not have the money to buy everything necessary for painting. He agreed to accept the written creations, and in return he gave paints and canvas. Tanguy even had its own art gallery, though quite small.
Sometimes some of the paintings were sold. The work of van Gogh was the first to exhibit Tanguy. But during the life of Van Gogh, not one of his creations, kept by Tanga, was ever sold. The painter created three portraits of Tanga. The most successful was the last portrait. In it, he is the most idealized. The symbolic meaning is hidden in the image of Papa Tangi. We see him in a very characteristic posture of the Buddha. His gaze is full of determination, and his face is mathematically symmetrical. The wall, which has a complex structure, is in contrast with the figure.
Before us are real Japanese prints. They deserved the attention of many contemporaries of Van Gogh. It seems that the whole composition is specially flattened. And Tangi is pushed forward. The veins are strong in the arms of Tanga. They are very contrasted with a blue jacket. The colors of the canvas are so alive that the figure of Tangi seems as real as possible.
This picture anticipated those magnificent works of the painter, which were created by him much later in Arles. A riot of colors and masterful color transitions can not but amaze. The picture seems both real and fabulous at the same time.





(
2
votes, average:
3.00
out of 5)
Description of the painting by Vincent Van Gogh "Portrait of Papa Tanga"