Description of the painting by Vincent Van Gogh "Lilac bush"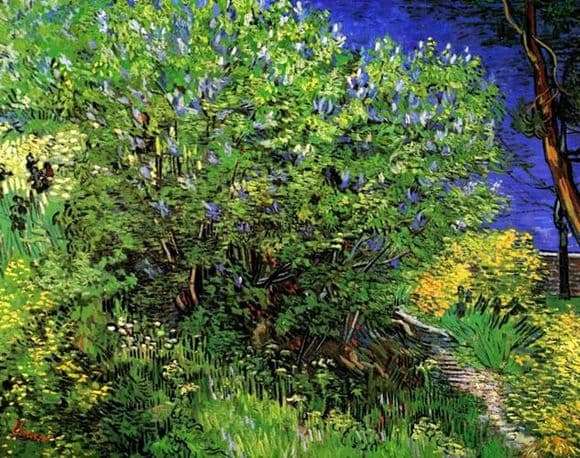 The researchers found that the baths of Gogh depicted one of the corners of the beautiful garden of the hospital in Saint-Remy.
At the bottom of the picture we see irises. They are found in many paintings of the artist. They surround a fairly narrow path. It is she who passes by the lilac bush, which impresses with its lush color. It occupies a central place on this canvas. In the background you can see the fence, which is surrounded by a garden. The dark trunk of the tree allows you to limit the space diagonally.
It is no coincidence that this painting is the most beautiful creation of Van Gogh. It combines bright colors with which the artist manages to convey the special charm of the south. Cold and clean shades of blue prevail. Shrub finds perfect lightness and incredible airiness. Vann Gogh is a true master who could convey how the leaves tremble.
The magnificence of grass and flowers that we see in the foreground are
impressive. They are written out incredibly clearly and subtly. We plunge into the magical atmosphere of a warm day, which is filled with the light of the sun, breathtaking aromas and fresh spring. The artist completely goes into this magnificence of nature. Quite possibly, in this way he wanted to forget about the suffering that was associated with his illness. The dark blue sky shows us his condition. Only it brings a certain tension to the general atmosphere of this magnificent canvas.
In this picture, the special style of Van Gogh is felt. The strokes impress him with thin lines, the shapes surprise with the most powerful dynamics, the colors are exaggeratedly bright. The texture here is incredibly expressive. It may seem that the picture radiates joy, which illuminates it from the inside with a special magic light. But it is in this riot of colors and the beauty of nature that one can feel the power of the painter's emotional experiences. The viewer understands that with all the desire to go into the world of nature, the disease takes its course.
Van Gogh paints this picture a year before his death. At that time he was in a mental hospital.





(
1
votes, average:
5.00
out of 5)
Description of the painting by Vincent Van Gogh "Lilac bush"