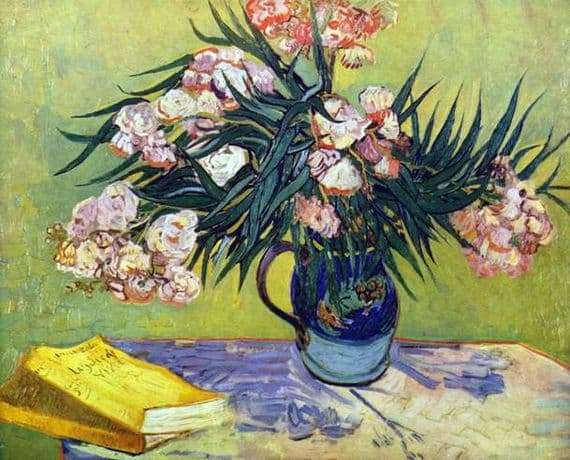 The most famous French post-impressionist painter Vincent Van Gogh was not at all popular during his lifetime. However, more than a hundred years later, his works are recognized as one of the most expensive creations of modern art. Today they adorn the halls of various museums and galleries.
Flowers were one of the most popular themes in the artist's work. Among them are roses and zinnias, carnations and daisies, irises and cornflowers, acacias and chestnuts, as well as oleanders. The artist began to pay particular attention to flowers, after he moved to Paris.
Van Gogh regularly draws flora, maximally displaying a variety of colors on a canvas. It is thanks to this that his still lifes stand out from others with their picturesqueness. In his works, flowers became a reflection of the beauty of the surrounding world, so often an inspiring creator.
In this picture, Van Gogh was forever imprinted by the beautiful oleanders located in a flowerpot. Their large, heavy branches occupied the largest part of the entire composition. And in the lower left corner of the painter arranged two bright yellow covers. Most likely, Van Gogh wanted to remind about the popular French novels he was fond of.
Van Gogh plays with contrast and vivid color differences. The colors in the picture look particularly clean and deep, and the contrasts harmonize with each other.
Light pink buds seem to be fiery stains against the background of the salad flowers wall. The individual details of the picture are similar to Japanese prints. This canvas radiates optimism and joy from the contemplation of the composition.