Description of the painting by Vincent Van Gogh "Peach tree in bloom"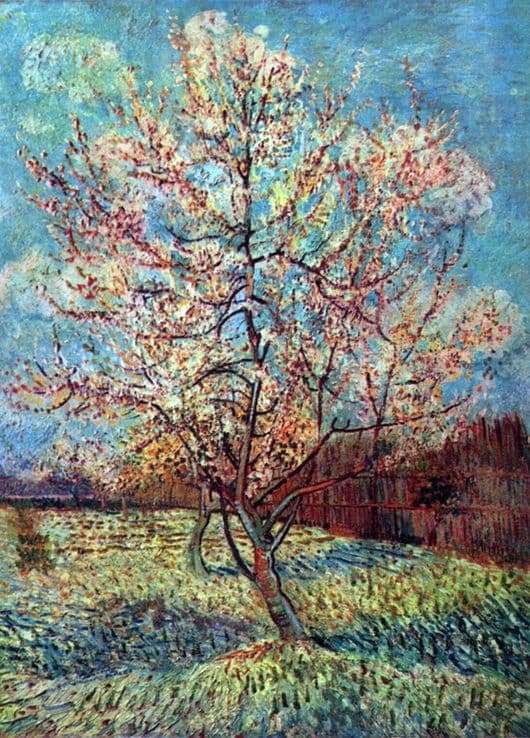 The painting of extraordinary beauty and attractiveness "Peach tree in bloom" was painted by Van Gogh in 1888. It was this year that the artist moved to the south of France, in Arles, and began a new, most fruitful period of his work.
Here, Van Gogh admired nature, its bright colors and writes a great many masterpieces. "The peach tree in bloom", like the other landscapes of Arles, the master writes from nature. He paints a picture in the open air, under the cold and piercing March wind. The master is so passionate about work that he does not notice anything around.
The blooming peach in the foreground of the canvas symbolizes the awakening of nature, heralding the near spring and warmth. Also, as Van Gogh himself admitted, this tree at the same time symbolizes his favorite Asian culture, Japan. The artist puts all his joyful hopes, expectation of a joyous future and a positive attitude into the image of a blossoming peach. In the background of the canvas one can see a clearly traced tall brown-red fence. It must be protecting the peach from the cold wind blowing from the sea.
Being in the south of France, Van Gogh painted many images of flowering trees, but this picture is considered the best. The master wrote to Emil Bernard that he was captivated by the beauty of the gardens of Arles.
Van Gogh, as a true impressionist, paints his picture not in an orderly, even strokes, but, as always, works haphazardly, relying on intuition. Smears imposed uneven, varied. His strokes, like his character, are indestructible, violent, and boiling with energy. Working on the work, Van Gogh initially tries to grasp the very essence, only after going to the details and color design. The earth in his picture comes out yellow-purple in color, and the sky – in spring blue.
The painting is kept in the French museum Kreler-Muller.





(
1
votes, average:
5.00
out of 5)
Description of the painting by Vincent Van Gogh "Peach tree in bloom"