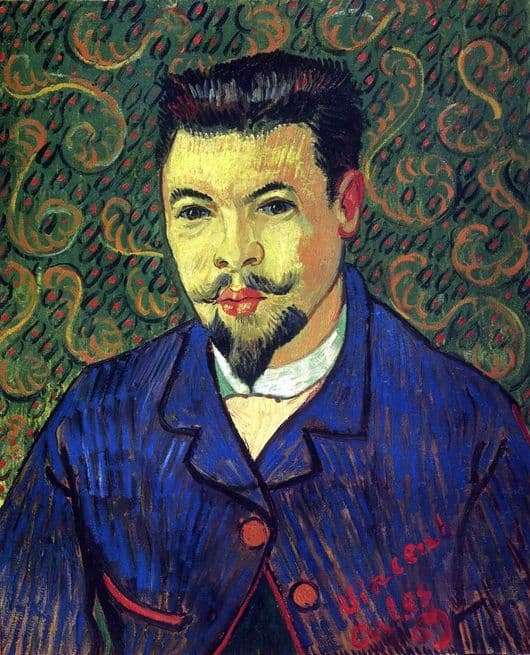 Van Gogh wrote The Portrait of Dr. Ray following the following story:
In December 1888, when Gauguin went for a walk, he heard a hurried step behind his back. He turned around, saw Van Gogh and ran, because as he later said that he saw a razor in his hand. It is not known what the artist wanted to tell him, but when the creator came home, in a fit of despair, he cut off his earlobe with a razor.
The artist was placed in the hospital, he was so excited when he could not behave normally, so he was placed in the ward to the insane.
Although a large volume of blood ran through the affected artery, the wound was not a bad one. Dr. Ray was going to sew the lobe, which was cut off, but with its delivery was strongly tightened, so it was no longer possible to have surgery.
Feeling gratitude to Dr. Ray, for his sympathy for the sick Van Gogh, the artist emphasized in the picture his compassion for his neighbor.
The range of colors in this work is very colorful and bright, so symbolically, as he usually did in the pictures, he expresses admiration for this doctor.
The artist on most of his canvases portrayed a foxglove flower (this plant helped him temporarily get rid of the stressful state, and thus he expressed his gratitude to him). Van Gogh had a yellow flower and a red foxglove.
And "Portrait of Dr. Ray" was written in yellow-green tones.
But the character himself was a bad opinion about the work of this artist, this work he did not like, and therefore it first lay in the attic, and then they closed the hole in the barn.
The most striking thing is that over the years this doctor has really become more and more like his own portrait. Today you can see it if you visit the Museum of Fine Arts in the capital.