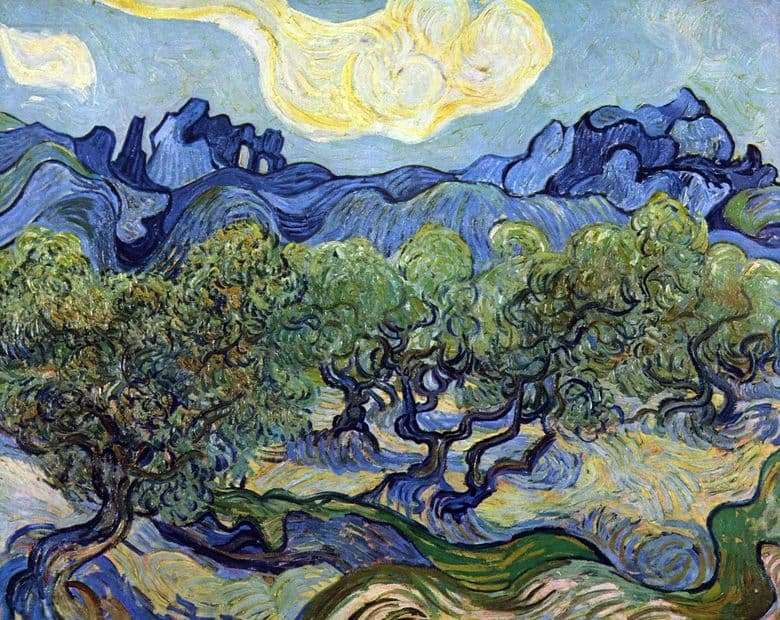 The painting "Landscape with Olives" was painted by Van Gogh in 1889 in a difficult period for him. At this time, he was in the hospital of the monastery of Saint-Paul-de-Mausol in the small town of Saint-Remy-de-Provence. Then he worked with incredible hardworking and wrote more than 150 paintings and about a hundred drawings and watercolors. Basically, during this period of his life, Van Gogh painted many still lifes and landscapes, the main differences of which were incredible nervous tension and dynamism. Among them is a series of landscapes in which the artist painted olive trees. One of them is the "Landscape with Olives".
Paintings from that period are different from Van Gogh's inherent writing style, although the style remains the same. The artist throws out all his experiences on the canvas and opens up on the other side. Van Gogh also continues to use the technique of smears, only now they have become more intense, the lines are smooth and winding, the color palette has changed to more psychedelic color solutions – all this reflects the state of his sick soul. In the picture there is not a single straight horizontal and vertical, all linearly winding along the canvas. The perception of the world seems to border on unreality.
The soil is more like billowing waves of blue, green and yellow with their various shades. On this raging soil, as if olive trees are floating, their color gamma echoes the palette of the soil. Mountains of unreal blue color with green tint inserts.
On the sky, a faded blue color interspersed with a yellow hue, two clouds are depicted more like clouds of yellow smoke with an admixture of blue hue.
To date, the picture of Vincent Van Gogh's "Landscape with Olives" is in the Whitney Museum of American Art in New York.