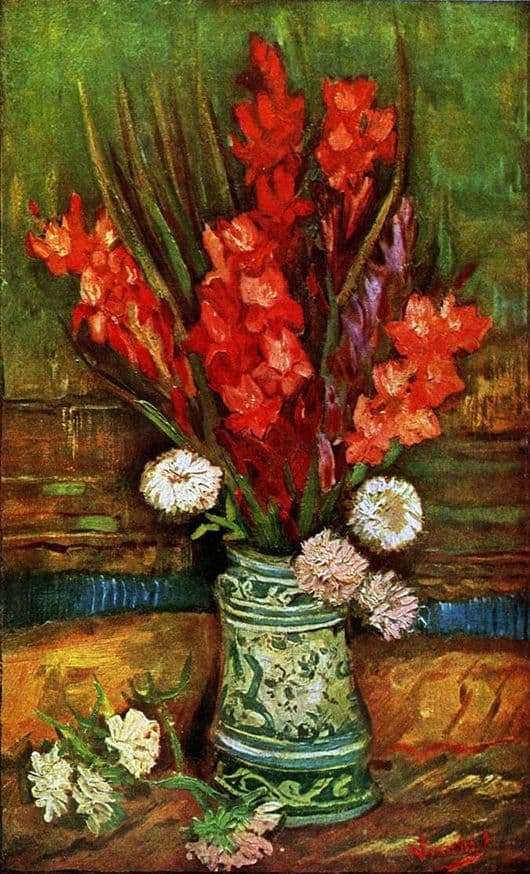 Vincent Van Gogh is a great impressionist, who created many magnificent still lifes. One of the main tenets of post-impressionism is the image of the world of things, conveying the materiality of our world. Van Gogh looks at the simple world of things in a special way, finds the beautiful in the elementary. The still lifes of the artist are recognized as innovative, he turned the work on them into experiment and artistic search.
A painting by Vincent van Gogh "Still Life with Gladiolus" was written in 1886. She does not depart from the usual execution of still lifes with Van Gogh flowers, as always the picturesque flowers are written in the free creative manner of the artist. It would seem that the canvas depicts ordinary flowers in a vase, but Van Gogh knows how to show the ordinary beautiful. He sees beauty in the inner essence of objects and throws it out onto the canvas. With this painting, the master glorifies the vivid beauty of flowers. They are depicted in bright colors. All shades on the canvas are bright and saturated, but especially striking are the bright red petals of gladioli located in the center.
For contrast with the pomp and brightness of gladioli in a vase, Van Gogh depicts asters. They are smaller, faded, just white, but also incredibly lively and beautiful. Several asters, not fit in a vase, casually thrown on the table. The green of the bouquet is not as saturated as compared with the petals; it merges with the green wall. The leaves are clearly traced, there is a slight shadow on them. In the background, a wall of green tint rolling in brownish yellow. The table is also brown with a yellow tint, most likely wooden. For contrast, the table is registered schematically, rustic, but a vase and flowers are written out accurately and clearly. The vase itself is green with an intricate white pattern.